Late Summer in California is the perfect time to watch the Scottish-American diaspora at play. Highland Games, like the one in Dixon, a small farming town near the State capital, Sacramento, tend to come at the end of a sultry season and so the sportsmen and women, like the shinty players, and the heavy games specialists can do their lung-busting feats in relatively mild conditions. The North Californian Camanachd club led by Michael Bentely have been playing Shinty at Highland Games in California since the mid 1980s. Men and women are welcome to join and you don't have to be of Scottish descent to play although everyone who joins seems to sign-up for induction into the world of tartanalia, clan heritage and whisky appreciation.
Professor Carlos F Borges may have a hispanic name but his devotion to the Scottish Heavy Games tradition of caber tossing, hammer throwing etc is legendary in these parts. All throughout the Dixon games, Prof. Borges gives a running commentary on who is throwing and tossing further than the competition. He wanders the field with his radio-microphone, cowboy hat and ZZ-Top beard in constant motion. Prof. Borges also teaches heavy-duty applied mathematics to students and is partial to a big stogie.
Elizabeth and Andrew Davis have Scottish great grandparents or maybe even great-great grandparents. They love Scottsh dancing and all day long during the Dixon Games hordes of young Calfornian kids like them are sword-dancing and leaping gracefully in front of stern judges. Scottish dancing seems to be one of the most vital traditions at California Highland Games and the one that seems to communicate the Scottish cultural virus most effectively across the generations. Elizabeth wins several trophies at the Dixon games.
Bill Scott is a retired shepherd. With his collie Rex they are the best man and dog team at the Dixon Games. A recent stroke has reduced Bill's capacity to remember the Scottish place names that he was brought-up learning from his parents but his ability to manouver Rex and a flock of sheep around a dusty Californian corral remains un-diminished.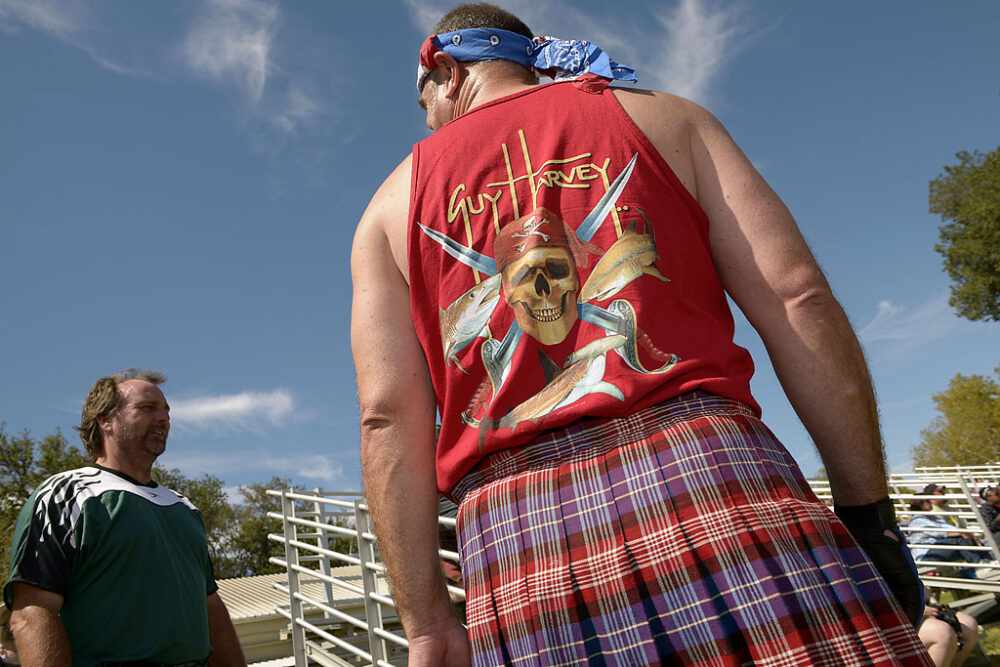 Alan Hebert is also a stalwart of the heavy Games in California. He is devoted to all things Scottish and dreams of tossing the caber at the Highland Games in Argyll which is the ancestral home of his clan. Next year he hopes his dream will come true. In the meantime he remains an IT guru in Silicon Valley and also makes kilts in his spare time. Burns Suppers in Silicon Valley are legendary according to Allan and I have booked myself in for that experience next January.
The passion for Scottish sports and culture at events like the Dixon Highland Games seems undiminished and shinty, heavy games, dancing, shepharding and traditional music seem as popular as ever among this group of Americans with links -however tenuous – to the old country. It would make a great tv series, this mix of friendly but ultra-competitive Scottish-Americans on the Californian Highland Games circuit. At the end of the day though, it is the Stars and Stripes that gets the ceremonial treatment and everyone goes back to life on the Pacific West Coast.