'Black Dots' by Nicholas White is an exploration of mountain bothies and bothy culture throughout the United Kingdom. Many of the structures, landscapes and people included in the project were photographed in Scotland, Sophie caught up with Nicholas to talk about the project…
"Far from civilisation and mostly accessible only by foot, bothies are secluded mountain shelters scattered across the British Isles and tirelessly maintained by volunteers from the Mountain Bothies Association. Unlocked and free to use, they provide a refuge from the vast terrain that surrounds them and have become an iconic feature of the British landscape over the past fifty years. Bothies are synonymous with the outdoor experience in the UK and from day trippers to mountaineers, the growing community of bothy-users is hugely diverse.
'Black Dots' is the result of almost three years spent traversing our most remote landscapes in an attempt to better understand what these buildings are, where they're located and the culture that surrounds them. Drawn not only by the primitive beauty of the bothies and the landscapes they sit within, the work also investigates the human element to the bothy story, capturing the faces of those who trek for hours to temporarily inhabit these spaces, many miles from the nearest settlements."
Black Dots by Nicholas White
DS: Hi Nicholas, thanks for talking to us, could you start by telling us a little about your work and photographic career to date.
NW: I first started shooting over ten years ago, but developed a deeper interest around 2010 when I began studying photography at degree level and I've been shooting professionally since 2016. My time is split between working commercially and embarking on personal projects such as Black Dots. My practice is predominately landscape based, but tends to talk more about our relationship with the landscape and explores stories that unfold within it as opposed to being specifically about the landscape itself. Much of my work extends into portraiture, documentary and still life.
DS: We first saw Black Dots in Loupe Magazine, and were drawn to it, since then it's been published far and wide. We understand it was shot in the UK over 3 years of walking and exploring – what was it that initially gave you the idea for this project – how did you get started? Was it the walking, the bothies themselves, the photography, the story? None of the above or some other impetus?
NW: Thank you. Many of the project ideas I have scribbled down are born from everyday conversations, a simple article in a magazine or online or something I discover whilst driving/hiking. From there the curiosity takes over and the concept develops fairly organically. This was certainly the case with Black Dots, the seed of which was planted in around 2013. My journey into photography was through a life spent outdoors, and Scotland was a place I'd not previously explored. I was researching different accommodation options for hiking holidays to the highlands and stumbled across Bothies on the internet. The more I researched, the quicker I began to formulate this body of work in my head. Initially I was drawn to the physical isolation of these structures and the landscape that almost engulfs them. But over time, my attention turned to what these buildings represent, who is using them, and the culture that surrounds the intriguing world of bothying.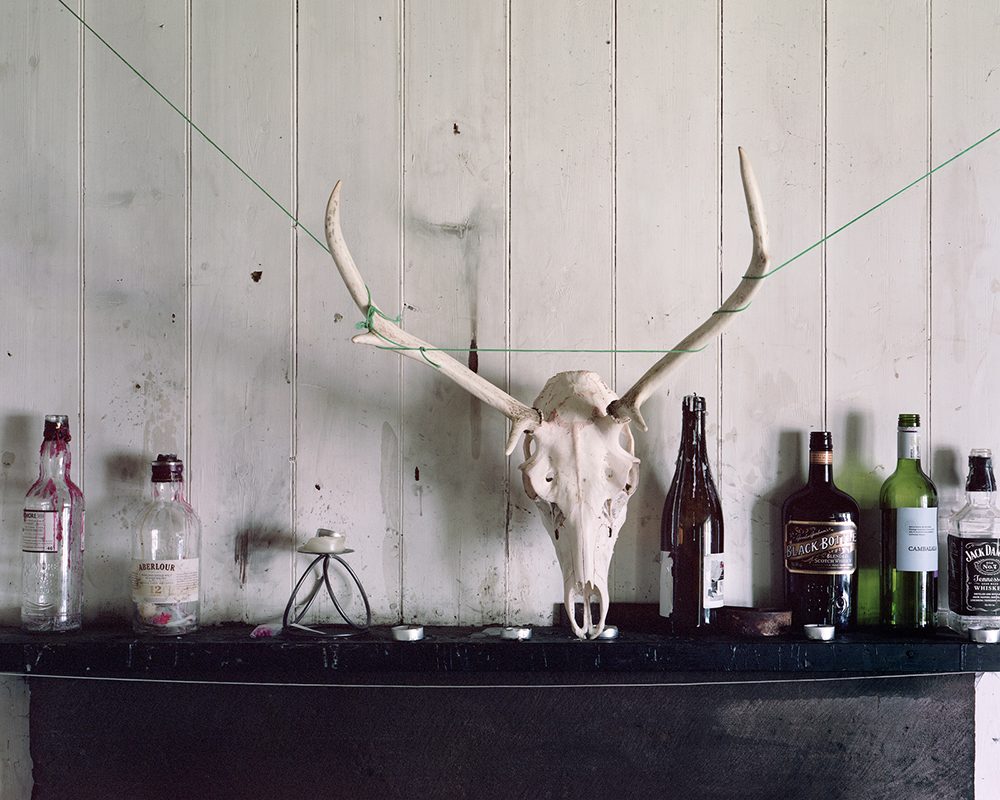 DS: And tell us a little of your experience once you got there of meeting people, and making their portraits.
NW: Nothing about the portraiture was planned, I just left it entirely to chance. I'd hike to a bothy and plan to stay one or two nights, if people were there then I'd make a decision as to whether I approached them for a portrait. Most of the portraits were taken the following morning after I'd built up a relationship with the individual/s and more often than not they were more than happy to be photographed. I think if I'd entered the bothy and immediately asked them if I could make a portrait the response would have been very different.
DS: What was your time spent in the bothies like? Were you there alone before people joined you? How did it affect your relationship with the landscape and people you were photographing.
NW: I was joined by a friend and fellow photographer for sections of trips as he was documenting the project for the blog, but I did find myself alone for a lot of the time too. It's often difficult to separate yourself from the initial excitement and relief of reaching the bothy. Regardless of whether you're photographing there or not, you've still had to hike for a long distance with a heavy pack and usually in some pretty tough weather, so reaching the bothy is a pretty good feeling but it's difficult to capture that response in a photograph. The viewer has only got a still image to look at, they don't have the same feeling of relief or satisfaction, nor do they have the smells or the sounds of the landscape – they haven't hiked 6 hours to "Reach that photo" have they? So I found that I'd need to take some time to overcome that initial response to the location before I began to make work. Once I did that, I was able to see the location in a completely different way. It's personal, too. I wasn't taking a photo then going home again, I would live in that space for 48 hours or so – so I'd be totally immersed in the subject of my photos. That was pretty special!
Ryvoan, The Cairngorm Mountains, Scotland © 2017 Nicholas JR White all rights reserved
DS: The Scottish landscape is often romanticised and presented in a picture postcard way – what were you hoping to communicate to your audience with this work? Was there something specific you were exploring or trying to say/question?
NW: I have a sort of love/hate relationship with beauty and that romanticised aesthetic that you speak of. Beauty is just one of many tools that we photographers have in our toolbox -but all too often I find it's overused, or applied incorrectly. Ultimately, Black Dots talks a lot about experiencing the British landscape, and you can't really talk about that experience by using beauty alone: you have to embrace all weathers, all conditions and all the different types of light. To go out and shoot every scene in a glorious sunset would be a falsehood. So I chose not to limit myself by seeking beauty, instead I sought honesty. I wanted to accurately document the British landscape in all seasons and in all weathers. There were times of course where I was greeted by beautiful evening light, but there were plenty of times where I was soaked through to the skin too!

Shenavall and The Great Wilderness, Northern Highlands, Scotland © 2017 Nicholas JR White all rights reserved
DS: We notice that all the portraits are of men, was that intentional? Did you meet any female visitors to these places?
NW: The lack of women wasn't intentional – I began to realise it half way through the project when a rough sequence began to develop. In reality, this is due to me not encountering many on my trips. The women I did meet either didn't want to be photographed, or the resulting portraits just weren't strong enough to make it into the final edit; and that's the priority for me really. I don't think this is representative of the bothy-demographic or indeed the outdoors as a whole, it just so happened that on my personal journey i encountered (and therefore photographed) primarily male subjects.
DS: It would be interesting to hear your views on accessibility to the "wild" landscape.
NW: In terms of accessibility, we are incredibly fortunate here in the UK to have relatively unrestricted access to some truly stunning landscapes and in Scotland especially this is helped by collaborative efforts between the estates and organisations such as the Mountain Bothies Association, who together aide in facilitating unforgettable experiences for zero cost. Naturally, there are rules and codes of conduct but these are implemented only to assist in protecting the longevity of these wild spaces.

Strabeg, Northern Highlands, Scotland © 2017 Nicholas JR White all rights reserved
DS: As a clearly passionate personal project, to get corporate sponsor on board is an interesting partnership – what was the best things about your collaboration with Rab, how did it come about and what were the challenges – ie how did you prevent this becoming a set of advertising pictures for them?
NW: I formed a really strong working relationship with Rab at the very start of the series and to be honest, Rab's involvement didn't impact on the outcome of the work. They didn't have any creative input at all, so I was able to steer the work in whatever direction I wanted. Rab provided all of the necessary kit that I required in order to spend this amount of time outdoors. It's no fun trying to work a 5×4 in a Scottish Winter without the proper clothing, so Rab's assistance with that was incredible. It was an interesting partnership as you say, but the brand is built upon this idea of 'mountain people', and so a story about British bothy culture was destined to sit well on their blog and social feeds. They never asked for product placement, they were more interested in the message of the work which was fantastic.
DS: Thank you so much Nicholas for taking the time to talk to us, best of luck with the book.
See Nicholas' blog about the making of Black Dots and more information about the project on his website
Black Dots is available through Another Place Press.
Click here to get your hands on a copy
48 pp / 235 x 190mm
Softcover, threadsown
Fedrigoni & GF Smith papers:
350gsm Colorplan cover
170gsm Uncoated text
Edition TBC
APP016
ISBN 978-1-9997424-5-4
£16