In the summer of 2019, Elliot Caunce made the decision to relocate to Scotland from Cornwall. As he saw it, there were two factors that led to that decision. In the first instance, he had asked a Dundee woman to marry him, and in true Scot fashion, she saw no logical reason why they should live anywhere but Scotland. Secondly, he was enchanted by Scotland's scenery; places he had previously seen in books and magazines were now on his doorstep. In particular, the sheer space between A and B instilled an unprecedented opportunity to get out, get lost, and disconnect. Caunce made this work for his final project for his BA (Hons) Press and Editorial Photography at Falmouth Universitty. He talked to Sophie recently about making the project .
DS: What gave you the idea of this body of work – why were you interested in the subject?

EC: It was during this exploratory period I stumbled into the life of Jake Williams, a charismatic folk performer with a trademark beard and oil stained orange boiler suit. In 2011, he became the subject of Ben Rivers slow-cinema documentary Two Years at Sea which was an early inspiration for the project. Jake's off-grid story started when he fell out with his landlord in the 70s, and decided to move into his bothy 'Bogancloch' where he lives without mains electricity, water or a conventional sewage system. The property is located in a woodland in Aberdeenshire where he once resided with his then wife, and daughter, Ceilidh. He has since lived alone here for the best part of forty-years.
Over the course of several meetings with Jake, I became increasingly interested in his unusual lifestyle choice and wanted to meet others like him (although there is nobody else quite like Jake). And, so, the decision to track-down Scotland's remaining modern-day hermits was a wholly organic one. This premise became the starting point for my final major project on the BA Press & Editorial Photography at Falmouth University. I penned the series 'Off-grid Scotland'.
Being a fairly literal person, with a technical mindset, I set out with the intention of making an immersive multimedia project. I applied an interdisciplinary approach to visual-storytelling, with the intention of using digital equipment to form engaging content for an online audience. In addition to my own content, I used vintage photographs from each case-study in a way that helped provide context as well as expressing the passing of time. I made the decision to make multiple visits, in an attempt to form deeper connections than we see in traditional reportage.
DS: How did you access these individuals, tell us about the process of finding them an contacting them about the project?
EC: It started out with an obligatory google search. I found Scotland to have a fairly well documented history of hermits, and certainly quite a few off-grid communities. Sara Maitland is perhaps the most well-known present-day example in this collection. Sara is a practicing Roman Catholic, a revered writer of religious fantasy, and has published books on the subject of silence and solitude. She lives alone in the wilds of Galloway with her beloved border-terrier, Zoe. 
Before long I came across an online article about a hermit in Lochaber who activated his emergency locator beacon when he suffered a stroke. The rescue team air lifted him to hospital where he spent several weeks recovering. By cross examining online comments left by hillwalkers, I managed to roughly pinpoint the location of Ken Smith, known locally as "The Hermit of Treig".
It was a complete stab in the dark, and a rather treacherous journey to undertake in winter, but I packed my bags, and drove to Fort William. From there I took the fifty-mile train ride directly into the wilds of Lochaber and made the hike through the snow covered hills to Ken's cabin; tucked away in the forest of a millionaires estate. Fortunately, he welcomed me with open arms.
While I was visiting Ken, I met with another extraordinary Scot called Davy McDonald, who lives in a tent within hiking distance of Ken's cabin. He had come to check up on the recovering hermit, and quite miraculously, appeared at Ken's door just shortly after I had arrived.
Davy  went into the wild after being diagnosed with the critical heart condition, dilated cardiomyopathy. For the last twelve years, he's been self-isolating in a tent on the edge of an idyllic highland loch.To get supplies he hikes through the hills to the closest train station and takes the one-hour ride to Fort William, hauling back three weeks of supplies at a time, even in the winter months.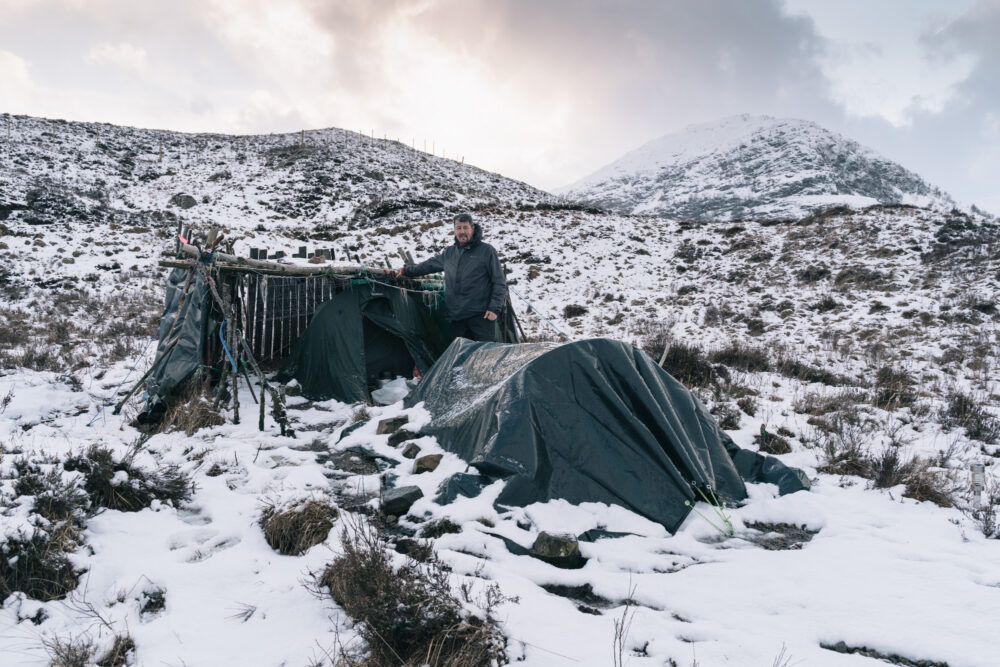 DS: When it came to photographing how did you get there, did you stay with them, how long were you there, what were the logistics?
EC: I made the hike to meet with Davy on a couple of occasions while shooting a short film about him. Logistically speaking, due to the off-grid nature of his location, it was challenging to make arrangements to meet but admittedly, it also made the whole thing more alluring. Nothing was certain. With no phone signal to arrange a meeting, it was a complete gamble that he would even be there. On one occasion, I slept in an abandoned house in the dead of winter, while I waited for him to return from a supply run.
The Off-grid Scotland project is a love letter to the great outdoors, inspired by the cathartic need to get out and disconnect. Without all the distractions of modern day life, I found our conversations – often sat around a furnace – enabled me to listen more closely than I had before. I felt more human, more rounded, more wholesome, and with every tale, the long-term appeal of this "alternative" lifestyle felt more achievable. 
All images © Elliot Caunce
See a recent article in The Guardian about Elliot's work
See more of Elliot's work on his website www.ecaunce.co.uk