"I grew up in London and first went up to the island of Vatersay when I was 12. I fell in love with the place immediately and kept returning to the island once or twice a year for many years. It seemed so real after the suburbs of London. Although I was busy photographing the landscape I unfortunately didn't overcome my shyness and start photographing the people there until around 1985. Those early photographs I dusted off and digitised in 2009 and put them online. The response from friends on the island was wonderful. Back in the eighties there were not so many cameras on the island and they would only be taken out for special occasions. This means that for some people those photos that I took are the only images they have of family and friends from that period. So over the years they have accrued a certain historical and nostalgic value. The response really inspired me to begin photographing the folk up there again, and this time a bit more consistently. So having renewed my contact with the island and my friends there this has become an ongoing project which I hope to continue for many years.
As far as the photos of the children are concerned, back in 1985 they weren't so camera shy (with a few exceptions) and were happy to ignore me. Having said that, children are nearly always a great subject since they inhabit their bodies in such a direct, expressive way. It's great to have been able to follow their lives and now photograph their own children and even grandchildren. There is something vey evocative about a photograph of a child. It is a fleeting moment captured from a fleeting period in someone's life. This is brought home to me even more since I am only there periodically. This means that everything seems to be in time-lapse mode, all set against an apparently eternal landscape." – Paul Glazier
Jeremy, on behalf of Document Scotland – Many thanks for graciously allowing us to run your work, we enjoyed looking over it all. In particular we enjoyed your images of children. The pictures seemed to capture both the free spirit of island childhood life but also in some perhaps a feeling of foreboding, or of boredom, perhaps of the constraints of island life, would this be fair to say?
Paul Glazier – I grew up in London so can not really answer that question. You would have to ask an islander and would probably get various answers. From my perspective it seems idyllic but, no doubt, as with everywhere there are pros and cons. As for foreboding, I don't see that myself. Perhaps it is the sense of the fleeting nature of childhood set off against the uncompromising landscape.
DS – When did you first photograph in the island, how often do you manage to get there? Can you tell us what draws you back time and time again?
PG – I was first taken up to Vatersay when I was 12, back in 1978, by a priest who taught at my school. For many years he took young lads from Glasgow up there to bring them in contact with a different environment. When he worked in London for a few years he thought it might be something that I would appreciate. As a young teenager I went back with him as often as I could, once or twice a year, photographing all the time. Back then it was an escape from what I experienced as the rather oppressive atmosphere of the London suburbs. I loved being out in the rugged landscape of the island with its endless skies. Being with father Banyard was also a great privilege since I would go with him on his rounds and so got to meet everyone. The people there struck me a far more authentic and real. I realise now that my experience was coloured by the romanticism of a teenager but for me the island seemed to offer a peace and perspective that I could also take back with me to London. I started going on my own, also camping on the other islands, until I moved to Holland in 1994. After that my visits were more sporadic but since my exhibition there in 2010 my contact with the island and my friends there has been renewed and I try to go there when I can.
DS – How are you interacting with the people on the island when you are there? Do you stay with them, is everyone open to you, and to you photographing? Do you feel you get the access you'd like in order to photograph?
PG – I still stay in the church house when I am up there since my visit often coincides with that of Father Banyard who comes up regularly from Glasgow. Most people on the island seem fairly camera shy so I try to be discreet. My contact with the islanders is the priority so I try not to let the camera get in the way or to let them feel that that is the only reason for my visit. So no, access isn't a problem, but when it is appropriate to take the camera out remains, as ever, a question of being sensitive to the situation.
DS – I know when I undertook my reportage in a Roma camp in Romania, a settlement I returned to time and time again, that in order to keep things fresh for myself I had to occasionally vary how I shot by using different formats, or by shooting reportage one time, then the next more organised portraiture etc. I wondered how you're keeping it fresh for yourself photographically when the place you return to is so small, and the population is few?
PG – I think that that is simply a question of being responsive to the situation as it offers itself. Whether it be a wedding, being out in the fishing boats, or just visiting, each situation will offer different visual opportunities whether in the way of a series, a narrative or a single image.
DS – You talked in an email of your plans to photograph more systematically on the island, how do you plan to do this?
PG – Rather than 'systematically' I would say 'consistently'. In the years between those portraits from the eighties and 2010 I rarely took photographs of people except in a studio setting, and on the island not at all, something that I now rather regret. When I was there I was more interested in photographing the landscape. But after the wonderful response to my old photos from the eighties, combined with a general shift in my artistic practice, I realised that that material from my student days offered a good basis on which to build.
DS – Has there been much photography done on the island previously by anyone?
PG – I know that Gus Wylie was there sometime in the eighties and took a wonderful picture of the church after mass. It is a photograph that I wish I had taken since it is really an archetypal image of that time.
DS – What had been the response from the islanders to seeing the old images, and the new? And do you feel your photography has changed over the years, how you shoot, how you approach making the work? Has the attitude of the islanders to you photographing changed over the years, and if so, in what ways?
PG – When I digitised my eighties photographs and put them online I received a wonderful unsolicited response from people from the island. This eventually lead to the exhibition at the heritage centre in Castlebay, Barra in 2010.
The response to my newer photos is generally positive and I think the book and exhibition has helped to get people used to the idea. But naturally some are less keen on seeing themselves in photographs. There has to be a little distance. But folk are getting used to seeing me with my camera and I think I am probably also more relaxed about taking photographs of them.
As for my photography, yes it has changed enormously over the years and is still evolving.
Initially I used photography purely as a way of collecting material for my paintings. When my imagery had reached almost total abstraction I realised that I was missing the narrative aspect and, stopping painting for a while, I started producing photographs as independent works. These were generally staged with the human figure as the starting point. More recently however my preoccupation has moved away from the surreal constructed imagery to observed subjects.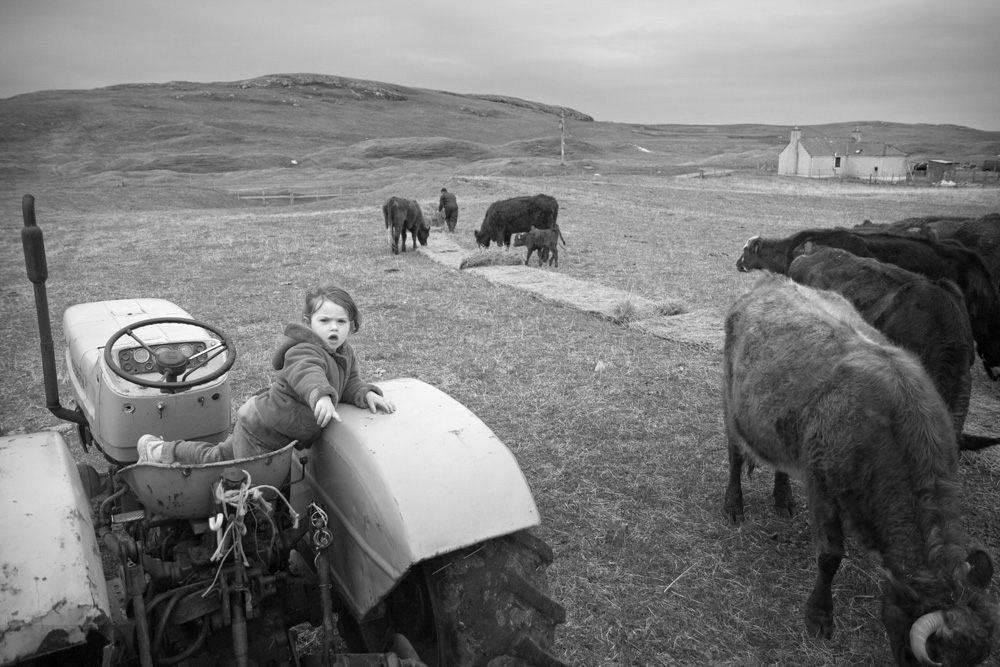 DS – Some readers like the technical information! What cameras do you shoot on? Are you shooting still on film, and how much do you think you've shot? Do you still have plans to digitise any more of the older work?
PG – In the eighties I used a beautiful little Rollei 35mm compact camera. In 2010 and 2011 I was using a cannon 40D. Since 2013 my camera has been a Nikon D600 full frame. I do have a couple of film cameras, a Mamiya 5 and Hasselblad 501CM – 6X6, which I love. However, a combination of the expense of film and the versatility of the Nikon means that I've chosen the digital path for this series up till now.
Although I did stumble across an unprinted negative recently I think I have already dug out most of the interesting stuff.
DS – Tell us a little about what you have done with the images, you put them online and also printed a book? Is that available for people to buy?
PG – As I have said, the posting of the 80's photos resulted in the exhibition in the Castlebay Heritage Centre. For me that was the perfect venue so that everyone from the island could come and have a look. That was also the thinking behind the book that I put together. That is available from blurb.
I kept it small and therefore cheap, and any profit goes to the heritage centre which for me is a great way to put something back into the community that has meant so much to me over the years.
Several photographs have also been selected for the permanent exhibition at the new heritage museum in Stornaway that will open in 2015.
DS – Where can people see more of your work?
PG – My website, a selection of the Vatersay photographs can be seen here. A gallery that shows my work is Aeroplastics in Brussels.
DS- Many thanks Paul, good luck with the project for the future!