'Unsullied And Untarnished' – A photographic portrait, by Glasgow-based photographer Jeremy Sutton-Hibbert, of the people of the towns of the Scottish Borders who each year undertake the maintaining of tradition, commemorating their local history and strengthening the bonds of their communities, during the annual Common Riding festivals of the summer months.
Braw Lassies and Honest Lads, Left Hand Lassies and Right Hand Men, Cornets, Hunters and Coldstreamers – all titles given to the upstanding youths who lead the festivities, and whose duty it is to carry the burgh or town standard around the common lands, to "bring it back unsullied and untarnished."
"Some of these ridings and festivals are ancient, stretching back five centuries and more. Others are more modern but, whatever their roots and antiquity, they have something in common. They are annual gatherings of remembrance and celebration; affirmations that though these may be small places there is nothing small about coming from Kelso or Galashiels, Lauder or Langholm." – Excerpt from essay, 'Unsullied And Untarnished', by Alex Massie.
"Every Common Riding is unique yet, in this important respect, each is just the same as last year's festivities. These are the permanent things; the ties that bind a people together, that insist upon the specialness of a particular small patch of Scotland. They are the things that make a difference, the things that matter most. And if you listen carefully you will still hear the hoofbeats of history commanding us to remember and celebrate who we are and whence we have come." – Excerpt from essay, 'Unsullied And Untarnished', by Alex Massie.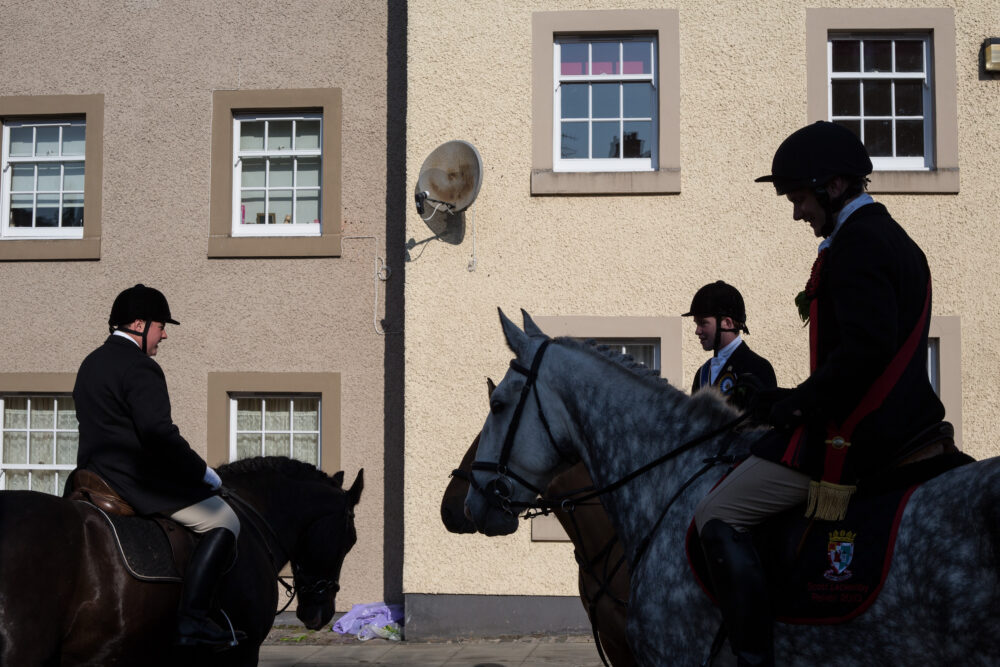 The photography, a mixture of this reportage work of the Common Riding festivals from summer 2013, and a series of portraits from summer 2014, appeared as a book 'Unsullied & Untarnished, the Common Riding Festivals of the Scottish Borders'.
ISBN: 978-0-9933742-0-3
96-pages, hardback, embossed cover.
58 Photos.
Foreword by photojournalist Harry Benson CBE
Essay by Alex Massie (Scotland editor of The Spectator)
RRP: £16.95
All images and text © Jeremy Sutton-Hibbert 2013-2014.