Many of Scotland most well-known and successful photographers revel in the Scottish landscape- the feast of grand vistas and small natural delights provides an almost infinite variety of subject matter.
That said, the ubiquity of Scottish landscapes featured in postcards, calendars and book can vere towards repetition and over-familiarity. How many stunning shots of Glencoe do we need on the shelves of our bookshops, and do such shots actually stop of us from visiting? I know I've avoided many famous Scottish vistas because they have been over-photographed and feel excessively-familiar.
Brought-up in the Highlands, Iain Sarjeant is a landscape photographer by profession. His work from the natural world is precise, technically-accomplished and beautiful to look at. So why are Document Scotland championing his work?
"out of the ordinary" is a blog that Iain produces from work that doesn't sit very easily in the Scottish landscape tradition. Many of the locations are humdrum, easily-over-looked and off the tourist trail. These aren't the sites the local tourist office will point-out to you with a map and a bonny smile.
Iain might describe his project as a "journey through everyday Scotland" but we think they are more than that. They are poetic responses to the way that modernity and its resultant constructions and overspill have fitted-in and around the hills, rivers and forests that feel intensely familiar to most of us.
This is a new kind of Scottish landscape photography and although it wont be finding its way onto many postcard racks in Oban or Inverness, Iain seems to be revelling in this exploration of the country's wilder fringes. Document Scotland recently caught-up with him for a chat about his "out of the ordinary" project.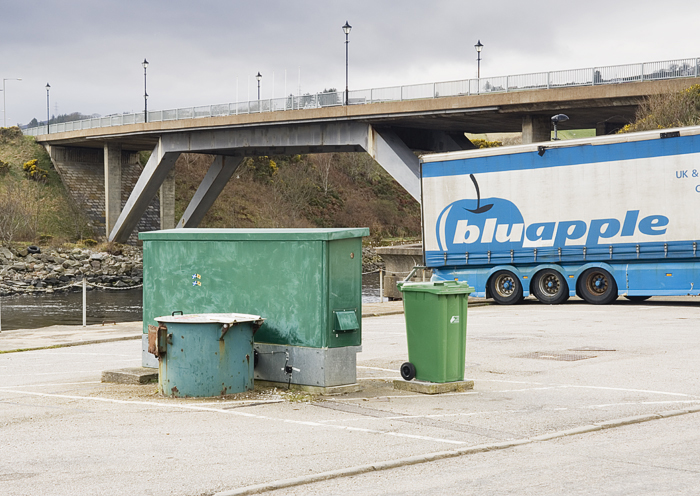 Document Scotland- The pictures in this project seem like quite a jump from your sparer and more technically-executed landscape images.
Iain Sarjeant- Growing up in the Highlands I have quite a strong personal connection with the landscape – it was my entry into the world of photography and where I built up my photographic experience. These days almost all of my commercial work is landscape based.
My personal work explores a much wider subject matter – an interest in urban environments and the blurred edges between natural and man-made. With no commercial considerations I enjoy the freedom to develop a personal style to my work. However, much of my personal work does relate to the land, such as my series 'Among Trees' or 'The Pool'
DS When did you start realising that this series of pictures were coming-together as something cohesive?
IS I've been taking images of this kind for a number of years – random observations – but it wasn't until I started editing the photographs for the blog that I began to see the images as working together, and the series almost as a journey through everyday Scotland.
DS Which locations are you repeatedly drawn to?
IS I try not to repeat locations – the idea is very much about exploring and discovering new places. However, in my local patch where I spend quite a bit of time, inevitably I do return to some locations so I try to do so when the light is quite different.
DS How would a typical day shooting on this project unfold?
IS My way of working for this series is as loose as possible – I plan nothing other than perhaps choosing to visit a place or area that I've not been before. The most important element for me is chance – the surprise of what I might come across if I take my time and explore. In a town or city I will simply set off on foot and choose my route as I go along – if in a rural area I might drive along back roads, see where they take me. The key for me to making successful images is to slow down and be receptive to my surroundings. Sometimes I am simply drawn to the play of light and shadow, or colour and form, but often I am looking to create images that have an element of ambiguity, hopefully leaving the viewer with questions. It's a way of working that I find very fulfilling – just drifting and seeing what is round the next corner.
DS You are certainly finding some poetry along the way. Are you taking inspiration from elsewhere…music, art, painting?
IS I read quite a lot of poetry and the one thing that really inspires me about good poetry is it's ability to make us look at familiar things or places in a new way. This is something I feel it has in common with photography, and something I try to bring to my photographs.
DS Do these pictures say anything for you about modern Scotland?
IS While it is not my intention to necessarily make a statement about modern Scotland with this series, I think the images inevitably paint a picture of everyday Scotland today, and peaple's relationship with their surroundings. I hope they document a side of our towns and countryside that we are all familiar with but maybe pass by without paying too much attention.
You can see more of Iain's project at this website… http://iainsarjeant.tumblr.com/
And send Iain a note via Twitter @iainsarjeant