In the first of a series of portfolios from Shetland islands, Document Scotland looks at the work made by the Map6 photography collective.
-Who are the MAP6 photography collective, and how did you come together?
Six of the original members first met whilst studying on the MA Photography course at The University of Brighton. Some of us had exhibited before, but largely we were new to the photographic industry and eager to gain experience. So in early 2012 Mitch Karunaratne, Paul Walsh, Heather Shuker, Chloe Lelliott, David Sterry and Laurie Griffiths devised MAP6. The Brick Lane Gallery in London invited us to show our work for the first time, six individual projects that we were working on at the time during the MA. The concept of the show was about collaboration, and sharing work about the relationship between people and place. We really enjoyed the experience and found that working collectively made getting things done much easier. The show was a success, and we had fantastic feedback from both the gallery and visitors.
When we graduated from the MA in 2012 we decided to continue working together, but under the premise of actually setting side time each year for making work together. Five of the original members are still with the collective, and since then we have had numerous other members join, some that collaborate for a single project, and some that have become integral to the collective today. We are continually looking to collaborate and work with new photographers that bring a different dimension to the group. Today the collective members are Mitch Karunaratne, Paul Walsh, Heather Shuker, Chloe Lelliott, David Sterry, Barry Falk, Richard Chivers, Raoul Ries and Rich Cutler. We have worked on seven projects in the UK, Moscow, Lithuania, Milton Keynes, Shetland and most recently in Finland.
-What was the thinking behind working collectively?
The original thinking was that we set aside a period of time each year to come together within a creative space, to support one another and experiment with new approaches to photography. Collectively we try new approaches to making images, to editing, sequencing and presenting work, which informs our own individual photographic practices. Fundamentally what is at the heart of MAP6 is experimentation and collaboration. Another important aspect of MAP6 is that we each bring a variety of skills to the group, and each member has fallen into their own place. For example where one member handles the marketing side of things, another is responsible for maintaining the website or social media, organising trips, curating shows or securing funding. We have come to realise that putting together a show can be a stressful undertaking, and having numerous members of the group all tasked with handling different things makes the process much easier and less time consuming.
-What's been the secret to your collective surviving since 2012? Many collectives implode after a year or two, or run out of energy.
Many photography students form a group after university to show their work, which can offer support for students fresh out into the professional world. How we have survived for so long is that we get on together and have fun whilst working. We are close friends and remain in contact throughout the year, supporting one another and informing one another about what's happening in the photography world. We only actually meet a few times a year, so it always feels like a reunion. Trying new things is also key to us remaining together, continually having new members onboard and always trying to expand the way we exhibit our work keeps the creativity going. Currently we are nine members and the collective spirit in the group is stronger than ever.
-You work on very specific projects, based a round a location. How do you decide where to go for these projects and do all photographers take part in the projects?
Each project is different, and it largely depends on what is happening in the world at the time. We always choose somewhere new to all members, so we are on the same page when we arrive. The Moscow project was our first time working and staying together abroad. At the time Russia had just started to allow low cost airlines to fly into Moscow, and we thought it was an interesting time to make work there, before the influx of change bought on by tourism. With following projects, the decision has increasingly become more complex. Lithuania was interesting because at the time it was the geographical centre of Europe and had just embraced the Euro. Milton Keynes was chosen, partly because we had a show already in place, but also because the town was celebrating its fiftieth birthday. More recently with Finland we were considering creating a series around Brexit, but we couldn't seem to get motivated by it. It was Mitch Karunaratne that first suggested creating work that would be like a positive antidote to the negativity that what was surrounding Brexit. She had been looking into the World Happiness Report and we each became fascinated by the worlds happiest countries and how they had become so successful. Finland had been nominated the happiest country twice (since then a third time). Previously we had only visited each location once, but for Finland we decided to plan two trips, to allow us more time to consider the work. Members each decide if they can participate in each project, but for Finland it was the first time that all members were present, making it our largest and most ambitious project to date.
– Some of you visited Shetland, what took you to there?
After intensely working on the show at the MK Gallery in Milton Keynes, we were eager to work somewhere which would be in absolute visual contrast. At the time Scotland had been in the media as having been nominated the most beautiful country in the world. Previously we had worked on the Lithuania Project, which spanned a relatively large country. We wanted to work on something that was more intimate, in a place that was big enough for us to find our own projects, but small enough for us to try and comprehend in just a week. We had never worked in an area made up of islands which presented an exciting new challenge.
-What were your thoughts on working in Shetland, what were the highlights?
We really loved working in Shetland, we felt a strong connection with the people and place. Shetland is such a unique area, which in most parts feels untouched and wild. Before arriving in Shetland MAP6 managed to appear on Shetland radio which had a surprising impact on our stay. All six members that went were at some point approached, and asked if we were 'one of the six'. People were really curious about what we were doing and eager to share their islands with us. On one occasion Paul Walsh was approached in the street and then driven around on a mini tour, being shown some of the highlights of the area. Before visiting Shetland we reached out to people via email, to arrange meetings relevant to our projects. Having people open up to you about their life is an incredibly touching experience, and those that we met were kind and willing to help. As is often the case, the people were the highlight of our journey.
-Tell us about the work of the three photographers in this portfolio piece.
Mitch Karunaratne is a documentary landscape photographer, based in London. Her work is principally concerned with how stories are held within the land and the relationship between the land and regional identities. For the past years, she has been focusing on the northern parts of the world, where she explores the process of changing relationships with the land.
For the Shetland Project she made a series called Three Times to The Moon and Back. The work looks at the migratory behaviours of birds moving back and forth between these geographically remote and strategically important islands, over 200 km from the Scottish mainland.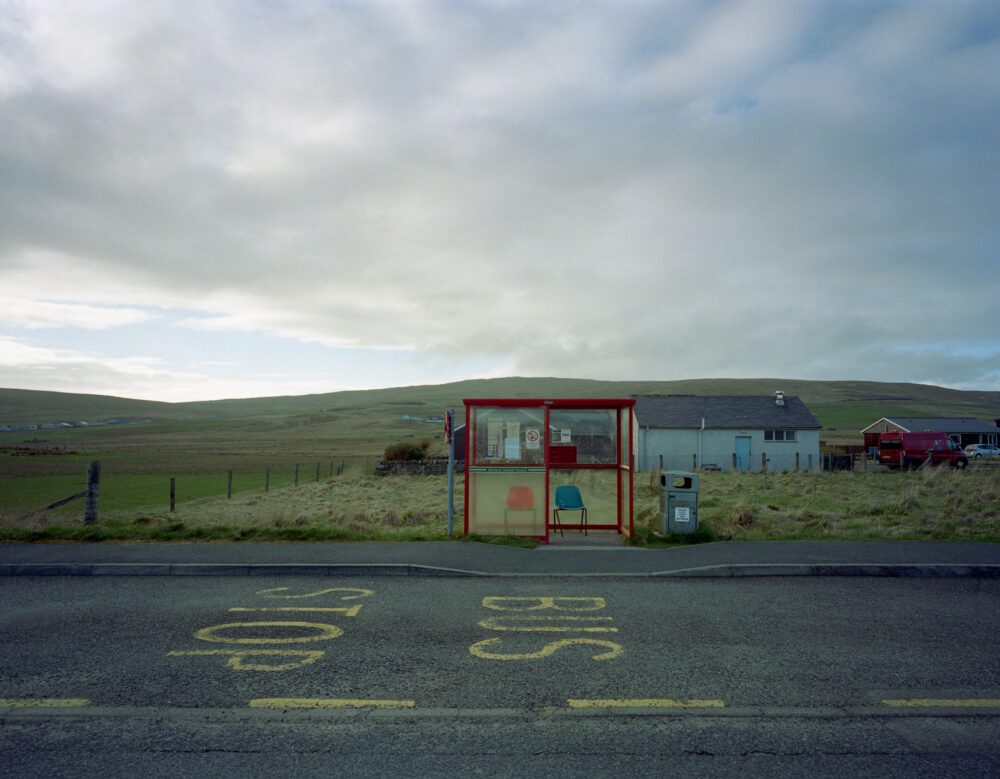 Phil Le Gal is a documentary photographer from Brittany in Western France. His work focuses on the consequences of geography and globalisation. In previous years he has documented life in China, The Democratic People's Republic of Korea (North Korea), former Soviet countries, Nigeria, UK and France.
Phil made a series called 60 Degrees. He was Influenced by the Shetland writer Malachy Tallack, who walked the width off the islands from the Atlantic coast across to the North Sea coast, before circumnavigating the world following the 60th Parallel. Phil Le Gal's series follows in the footsteps of Malachy Tallack along the 60th latitudinal parallel which cuts through the southern section of the mainland island as well as the island of Mousa. Along the way he explored life and its possible encounters.
Paul Walsh is a fine art and documentary photographer based in Brighton. His personal work explores the relationship between walking and photography where he creates projects drawn from the physical, psychological and historical experience of walking.
Paul worked on a series called Far From the Centre of Things. The work was Inspired by the Scottish poet Hugh MacDiarmid, who in 1933 travelled from London to Shetland to move into a small abandoned fisherman's cottage on the island of Whalsay. MacDiarmid spent nine years living on Whalsay where, despite an unstable mental state and living in near poverty, he wrote more than half of his life's work. Inspired by MacDiarmid's writing Paul Walsh travelled to Whalsay where he stayed alone in a small isolated cabin. From there he visited MacDiarmid's cottage, and then made a circular walk around the island making photographs in response to the isolation he felt amidst the vast Shetland landscapes.
-Any plans for a publication of the Shetland work?
As of yet we have not published the work collectively in a book. We would love to see it in print. We did have a major feature in Shetland magazine of the work, and it has been featured in numerous online magazines as well as having been exhibited in England. The series that Paul Walsh made in Shetland, Far From the Centre of Things has recently been published by Another Place Press.
-How was the Shetland work received by the islanders, and do you have any plans to exhibit the work there?
We had lots of really positive feedback generated from the feature in Shetland Magazine, and one of Heather Shuker's portraits was selected as a winner of the Portrait of Britain. Paul Walsh's publication has also been very well received and is almost sold out. We would love to show the work in Shetland and share it with people where it was made. We have been discussing the possibility of exhibiting the work in Lerwick, but any plans at present are on hold with the current restrictions.
-How does the collective function when you edit, Is it a collective process or does each photographer select their own images and work?
When actually making the work we stay and work intensely together, sharing our photographs each evening. This adds to the collaborative nature of the work, and in doing so each member helps to shape the entire project. Once we return we will have a number of sessions editing the work collectively. We have found that making prints and being able to move them around and play with different sequencings and pairing has always been the most effective way of editing.
-What are you working on a present?
For the past couple of years we have been working in Finland in response to the world Happiness Report, and Finland being nominated the worlds happiest country to live in.
-You have an exhibition in Worthing this month, where and when is your show?
We are showing Finland: The World Happiness Project for the first time. The exhibition is at Colonnade House, Worthing, West Sussex between 29th September – 25th October. The exhibition is part of the Brighton Photo Fringe 2020 and is free to visit. All nine members have work on show, which is exhibited in a variety of different media, from prints, wall posters, sound, film and video. This will be our biggest project to date and afterwards we intend to show the work in London, before taking it to a number of venues in Finland.
-How can our viewers who can't travel to Brighton Photo Fringe see the work?
The Brighton Photo Fringe 2020 festival opens on the 3rd of October and there is an accompanying gallery website where you will be able to see a selection of our Finland work online. We also plan on showing the work in London before taking it to Finland for a major show, where the entire project will be exhibited. For updates on the project you can follow Map6 on Instagram and see more of our work on our Map6 website.