Document Scotland begins a new era in our short and full life. We are delighted to announce that long-time friend and occasional collaborator, Glasgow-based photographer Sarah Amy Fishlock has joined us, and together we look forward to joining our energies and expertise, and building on all that Document Scotland has so far achieved in promoting documentary photography in and about Scotland.
We welcome photographer Sarah Amy Fishlock to the Document Scotland team.
Sophie Gerrard spoke with Sarah about how she got started in photography, her projects, some of her influences and what's next.
SG: So welcome to Document Scotland Sarah, we're looking forward to working with you – perhaps we can start with you telling us a bit about yourself…
SAF: I was born and brought up in Glasgow. When I left school I did a degree in Literary Studies at Glasgow University – it was originally going to be an Honours English Literature degree, but I cut it short when I realised that I wanted to go to art school. My father, whom I was close to and who passed his love of visual art on to me, passed away a year after I left school. I remember being in Venice with my mother soon afterwards, and taking a photo with my little point and shoot camera – a view of a corner building, from a bridge. The photo is pretty ordinary but I remember the moment really clearly as the instant I realised I wanted to do something creative, although I wasn't quite sure what that would be.
Even though it was photography that sparked my interest in the creative industries, I started studying Visual Communication (now Communication Design) at Glasgow School of Art when I was 21, originally intending to specialise in Graphic Design. After taking a short introduction to black and white photography course in 2nd year (my first time in a darkroom), I fell in love with the process of photography. My boyfriend at the time, though not a professional photographer, was really interested in photography, and would buy me various cheap cameras for birthdays and christmases – Olympus Trip, Holga, Fuji Instax – so my first forays into photography were really experimental. I fell in love with the way my everyday surroundings could become beautiful through photography. I spent lots of time in the darkroom during my degree – now, I can't even remember what I was printing, but I remember it being a really meditative experience, and crucial in helping me to form ideas of what a future career could look like.
SG: It sounds like your starting point was quite instinctive – tell us a little about how you developed your passion and interest …
SAF: During my degree, the artists I loved were those who made the ordinary extraordinary. I was fascinated by images of the American south – Robert Frank, William Eggleston, Stephen Shore. I still love those photographers, but I realised during my studies that my own style of photography would be more intimate, the stories I tell more focused. The Iraqi interpreters that I worked with during Middlemen, my degree project, have been through trauma that most people can't imagine, but I wanted to tell the story of their quiet persistence, their day-to-day challenges and triumphs – a story about what happens after conflict, when people must rebuild their lives. One of the primary influences on this work was KayLynn Deveney's The Day to Day Life of Albert Hastings – the simple story of the artist's friendship with an elderly widower, illuminated by Deveney's lyrical, painterly imagery.
Today, two of my main influences are Sian Davey and Bertien van Manen – two artists who produce slow, quiet, unhurried projects, in which the viewer is given an intimate glimpse into other worlds.
SG: We've enjoyed your work such as Middlemen and Amye & Ahren and featured them in Document Scotland publications and salons, you've also created Goose Flesh photography zine. You're clearly a prolific and driven individual, what motivates you?
SAF: For me, photography is a way of making contact with the world. It was hard to get Middlemen started – it look a long time and a lot of persistence to find the men, but once I did, I began to understand how humbling and illuminating it can be to help someone tell their story. While discussing a new project with a friend recently, something he said struck me – 'the best projects are the most difficult'. For me, that's definitely true – I want my work to challenge not only the viewer but myself, as a photographer and as a human being – to think differently, to change perspective, to reconsider opinions.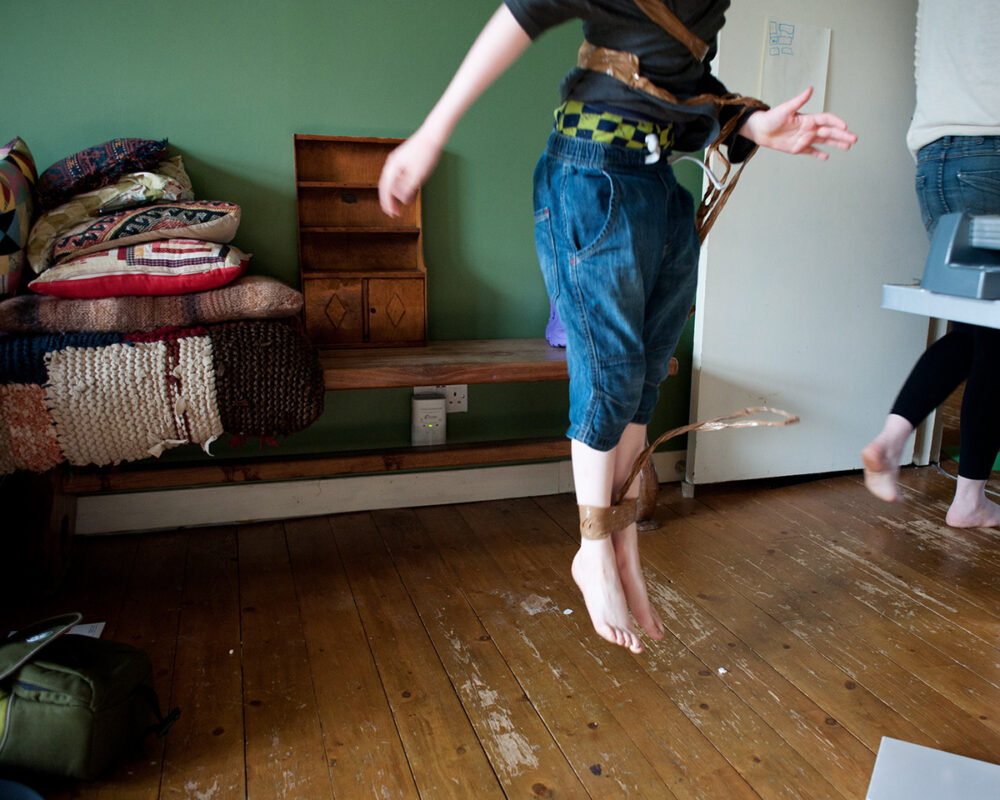 I always begin by researching my subject: this is really important when working with a different culture, as during Middlemen, or with disabilities, like Amye & Ahren. I read around the subject and look at other artists' work for inspiration. I've learned to always make work about subjects that interest me, even if they don't seem 'photograph-able' to begin with – there's always a way in. I then look for ways to access the people I want to work with – this might be through a charity, like the Scottish Middle Eastern Council who helped me meet the middlemen, or a mutual friend, who introduced me to Amye. I treat my projects as collaborations between myself and the subject – their comfort always comes first. It's important to me that when I show my work, the people I've photographed are happy with and proud of the result.
In 2013 I started Goose Flesh with a small grant from Ideastap as a way of showcasing work by emerging and established artists from, living in, or connected to Glasgow, in a compact, accessible, affordable form. So far, five issues of the zine have been produced, alongside exhibitions in a range of venues around Glasgow, from Trongate 103 to the Arches. My interest in zines continued during my residency at the Citizens Theatre (2013-14 ), for which I produced two zines documenting my projects – it was a great way to bring the work back to the community that inspired it. I now teach zine workshops to university students and community groups around Scotland. This is something I'd like to continue and develop in 2017, perhaps alongside one of my photography projects. Goose Flesh is on hiatus at the moment while I develop my own photography projects – but it'll definitely be back at some point in the future!
SG: Have you had any surprises along the way? Unexpected moments or challenges when making your work?
SAF: I am always humbled and pleasantly surprised by the people I photograph – the middlemen and their families welcomed me into their homes, gave me lots of delicious food, and shared their stories with me. Amye and Ahren did the same, despite the daily difficulties and challenges they face as a single parent family living with autism.
I've begun a few projects that have later fizzled out because I wasn't sure exactly what the focus of the story should be. It's important to identify precisely what interests you about a situation, even if you can't envisage the outcome right at the beginning.
SG: We've seen that your new work Beloved Curve, has been selected for Focus Photography Festival in Mumbai, and you've just returned from exhibiting it with Uncertain States in East London – many congratulations. What's coming up for you next?

My most recent project, Beloved Curve, is a departure from my previous work – it's a series of experimental double exposures looking at my relationship with my father and my experiences of mourning his loss. I have enjoyed immensely the process of working in a different way, and I'm really proud of what the project has achieved – as well as being exhibited in Glasgow and Edinburgh this year, it's been featured by BBC News In Pictures, the Guardian and Fiona Rogers' Firecracker. Thanks to this coverage, I've recieved great feedback from members of the public who've connected with the work – it's important to me that my work has resonance beyond the photography community, and I'm delighted that this project has achieved that.
I want to continue looking at some of the themes Beloved Curve touches on, but with a documentary slant – getting back into telling other people's stories. I'm currently researching what I hope will be a long term project about child bereavement in Glasgow, as well as some smaller documentary projects.
I'm really excited to have the opportunity to join Document Scotland at this stage in my career – I think it's important to have other artists to collaborate with, and to support and be supported by. I feel passionately about getting Scotland's photography seen, not only by people in the industry, but also making connections with those outside it. Document Scotland is making this happen, through the website, events and salons as well as exhibitions. It's a very exciting time for photography in Scotland, and I'm really pleased to be a part of it.
SG: Thank you for joining us Sarah and for taking the time to do this interview Sarah, we're excited to be working with you!
If you'd like to see more of Sarah's work please …