Following on from the success of the Document Scotland Portrait Salon event at Stills Gallery in Edinburgh – we are delighted that the first ever printed Portrait Salon exhibition will take place from January 10th 2014 at new venue FUSE Art Space in Bradford.
The exhibition features a cross section of the best contemporary portrait photographers from around the world and, we're very pleased to say, includes an image by Document Scotland's Sophie Gerrard.
Sophie's image was taken in Yangon, Myanmar last year.
"This photograph was taken one morning very early whist going for a walk around the colonial areas of Yangon, Myanmar. As I've seen in many asian cities, locals get up early, avoiding the heat of the day, and do their exercises in public. In Yangon was no different, I was there during the monsoon, it was incredibly hot and humid, early morning breezes were a lucky catch first thing in the day, and most people made for the water front. People's exercises weren't restricted to parks and open spaces in this part of town, many people simply found a spot on the pavement, set down their radio and started their routines. This man completely ignored me as a took a few frames with my medium format camera. I sought eye contact the whole time, with a smile ready and a gesture to ask – can I take your photo? But he stared straight ahead, never moving his head, transfixed on a point in the distance, slowly lifting and bending his legs, one after the other, listening to the crackling and high pitched squealing music coming out of his radio."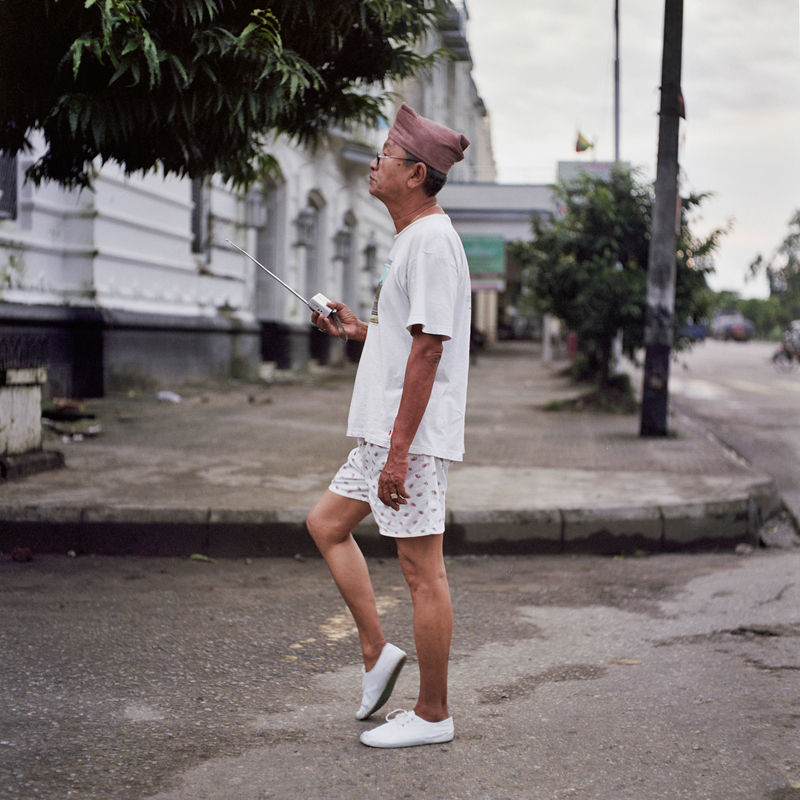 "Just shortly after taking this peaceful image, after walking a little further, I came across a group of elderly women doing tai chi on an overpass over a busy main road, whilst busy commuter buses trundled past underneath, belching out black fumes. They smiled and waved at me as I took their pictures. Everyone had a smile, even as another bus roared past and we all coughed away the fumes. The squeaky little radio kept singing, and the old ladies kept moving. Funny place to do Tai Chi I thought. Funny place to take photographs they might have thought."
Portrait Salon 2013 at Fuse
Opening party: Friday 10th January 2014, 7pm
Exhibition: 10th January 2014 – 8th March 2014
Artist talk: Saturday 15th February 2014, 3pm
Almost 1,000 images from 330 photographers were entered into Portrait Salon 2013, with the final 42 images chosen by three judges: photographer Abbie Trayler-Smith, Harry Hardie from HERE Press, and Jim Stephenson from Miniclick Talks. The result is a fascinating illustration of the diverse challenges associated with good portraiture.