Cliftonhill is one of the most evocative grounds in Scottish football, yet one suspects hardly anyone in Scotland could describe what it looks like or even – given Albion Rovers' name – where it is. Photographer Iain McLean has spent many years visiting the ground as a fan and a photographer. His project, entitled More Than Just A Football Club has recently been published in book form. Here he chats to Document Scotland's Colin McPherson, himself an aficionado of lower-league Scottish football, about his striking images of the Coatbridge-based club.
CM: I have several memories of visiting Cliftonhill in the 1980s with the team I supported, Meadowbank Thistle. The rubble-strewn ground was in a ruinous state, with its dungeon-like toilets and crumbling main stand and an owner who seemed part of the problem not the solution. And yet… it was always one of my favourite away days. From arriving at the ironic-sounding Sunnyside station to a pint in Big O's before the game, the trip to Albion Rovers was always eagerly anticipated. When did you first connect with the club?
IM: In season 2000/01 my friend and Rovers stalwart Bill Walker suggested coming along to the club when I was on the lookout for a longterm photo project. I had never been to Coatbridge before and knew nothing of its history never mind anything about Albion Rovers. I'll never forget seeing the stadium for the first time – a blaze of yellow and red alongside a busy road. It had an oddly exotic appearance from the outside with the colours standing out against the cold North Lanarkshire backdrop. I was impressed. Bill secured me permission to take pictures and I got started immediately. I found the fans to be welcoming and despite the state of the stadium – as you say, it was in need of a bit of TLC – I had a good feeling about being there. I originally shot on film – HP5 – developing and printing in my shed, and in the first season produced a few decent prints from games against Peterhead, Dumbarton and East Stirlingshire.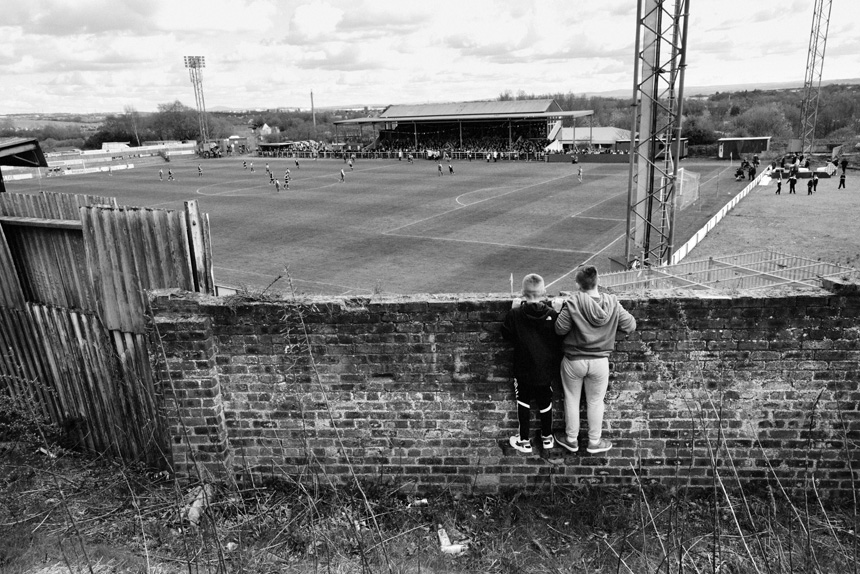 CM: Ah yes, those evocative colours, bright red and almost luminous yellow, certainly stood out from the more familiar grey sky which seemed to be ever-present there. I was particularly fond of Rovers' mid-1980s strip which featured a series of red diagonal stripes to complement the then sponsors Tunnocks. A design classic. Your images are monochrome of course, so we'll just have to add the colour in our imagination. What was the rationale behind using black-and-White for the project?
IM: Despite the colourful exterior, as soon as I saw the inside of the stadium I knew the photographs had to be mono as the inside harked back to another time. Black-and-white gives the pictures a more timeless feel and also gives the whole project continuity. Your own excellent pictures in When Saturday Comes are to an extent dictated by editorial needs, but I have a little bit more freedom when it comes to how the pics are presented.
CM: Actually the WSC images reflect very much my approach to photographing football – the magazine gives me complete autonomy, it's just the style I've developed over the last decade. I'd be interested in photographing a football project in mono, but I'm so drawn to the colour palette that I can't imagine ever doing it. I think your images work really well in black-and-white as the emotion of what you capture is laid bare more starkly. You have also had the opportunity to stay close to the story, as it were, and develop a strong narrative. I love the ups-and-downs you portray. Were the Rovers supporters aware of who you are and what you are doing?
IM: I started very anonymously, just quietly mooching around seeing what was happening. Slowly the fans have become aware of me and what I am up to and I suspect I am viewed with something between mild suspicion and vague curiosity. The pics have been exhibited a few times as well as been published in local and national press, so they are well used to seeing their photographs in the public domain. I also offer a free print to anyone who asks for one by way of thanks as it is the least I can do to repay people for their help. Given that our average gate is around the 400 mark, I'm a bit limited with potential models but try not to feature the same characters too often. There are some brilliant subjects though and amongst my favourites are Andy and Mary. They are real golden-hearted gems who are, as they say in football, 110% loyal to the club, attending fundraising nights and events. Mary swears that by taking her knitting to away games it brings the club good luck. The fans (hopefully) realise that I am not out to embarrass anyone or make them appear foolish – certainly there are often quirky scenes or incidents that present themselves, but I love showing the humanity and warmth this particular group of people have. I guess the project could be about anything – I originally approached a local rugby club – but lucky for me Albion Rovers came along at the right time.
CM: Have you ever thought about widening it to include the playing staff, management, etc. Albion Rovers have had a few great characters down the years: I can imagine a night out with the legendary Vic Kasule might have had the film spinning through your camera! I suppose what I am asking is are you intending to carry on the the series, or do you feel the book marks the final chapter? It's always difficult to know when to draw a project to a halt. There are usually milestones, after which the photographer takes stock and decides whether it's worth carrying on. Where are you with it all?
IM: At one point I attempted to contact local people with a view to photographing them and hearing their thoughts about living next to a football stadium. Sadly nobody replied to the leaflets I posted through doors, but it may be worth another push with this idea perhaps offering some kind of incentive. Every time I think about bringing the project to an end a new opportunity arises. This year we are playing some excellent football and are currently holding our own in League 1, which is surprising because we were everyone's favourites for the drop. So I have had new opportunities to visit new clubs (who are not in League 2) and also had the chance to record last year's League Championship win, which as you would imagine was a fantastic day for the club and also for photo opportunities. Eventually I'd like to have a large exhibition of the photos – but first need a location and a good editor! The club have been accommodating and really helpful towards me. Provided I am not a nuisance I am allowed to go about my business in a quiet and discreet manner. I have seen various directors, chairmen and managers come and go but I rarely have any dialogue with them, although last week I met one of the directors for the first time when he was helping serve tea and coffee in the players lounge! A recent request to photograph the home, away and referee's changing rooms was granted without any quibble and I am sure the club see the positive side to the project when we get good media coverage and have exhibitions here and there.
CM: So where can we get a hold of More Than Just A Football Club then?
IM: The 50 page photojournal is available priced £9.99 (+ p&p) from my website. It is also available from: Street Level Photoworks, Albion Roversfootball club, Summerlee Museum and Battlefield Framers in Glasgow.
CM: Thanks very much Iain, it's been great talking to you. Up the Rovers!
Colin McPherson is "In Conversation With…" writer Kevin Williamson on Thursday 7th April, 2016 at the Scottish National Portrait Gallery in Edinburgh at 6pm. Entrey is free.