Today Paul Glazier launches a kickstarter to support his new book "Island Tides"
Published with Bluecoat Press the book documents life on Vatersay in the Outer Hebrides over the 35 year period Paul visited the island.
"When I first went to the island of Vatersay in 1978 I was only twelve, but immediately I could feel that the landscape and people resonated with some inner reality of my own.
This is why I felt a sense of homecoming and why I've been returning to the island ever since.
Vatersay is the southernmost inhabited island of the Outer Hebrides, and the rugged landscape is the backdrop against which everything happens, from the smallest occurrences to the most momentous, lending a perspective that gives significance whilst at the same time making you aware of the ephemeral nature of the world and our place in it.
The remoteness and the scale of the island nurtures a sense of community, continuity and connection with the past, and I hope that through this book I can contribute to that narrative."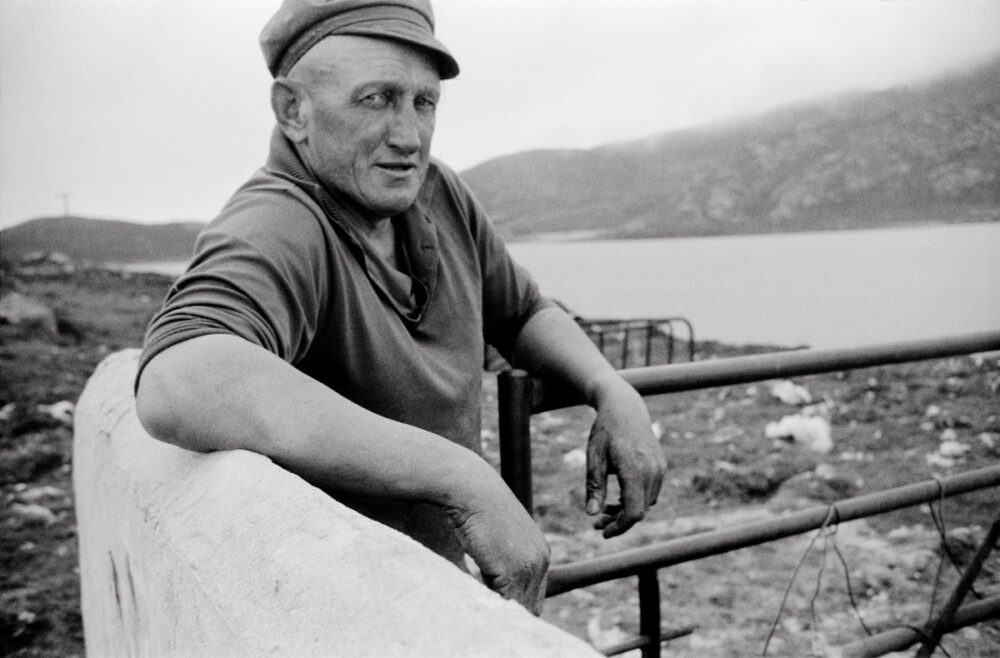 We featured Paul's project as a portfolio a wee while ago on the Document Scotland site and are delighted to see it's now going to be a book. Paul kindly spoke to us and answered a few questions the day before the launch of his kickstarter launched…
DS: Why did you first start the project?
PG: It evolved very slowly into a project, growing out of my love of the island. As a young artist it was natural for me to turn to something close to my heart for inspiration.
DS: How easy was it to establish the trust and collaboration of the islanders?
PG: That simply grew out of my ongoing relationship with the people there. There are always people who are more comfortable in front of a lens and some less so. The fact that they know me makes a huge difference and most are now used to my photographic habits and are fairly relaxed about me taking photos, though I try to make it as little intrusive as possible.
DS: How often are you there?
PG: In my teenage years and into my twenties I was there once or twice a year in the holidays. When I moved to Amsterdam in 1994 this became less frequent but since 2010 I've been trying to get back every year, though I have missed a couple.
DS: What has been the most rewarding aspect of undertaking the project and spending time there?
PG: Spending time there has always been very rewarding in itself and I always feel recharged after my stay. As for the project itself, it has been great to see and hear how much the islanders themselves value the work. Many of them have my photos hanging in their houses and that is a huge affirmation for me that my work has worth.
DS: What made you decide to publish it as a book?
PG: As a project it could of course go on indefinitely and I'm certainly intending to continue visiting the island and taking photographs. But it just feels like the right time to give it a more public form, both as exhibition and as a book.
DS: How did you do the process of editing 30-years of work into one book?
PG: Yes, that was tricky! I had a couple of exhibitions last year so that really helped in finding a core to the book. But it was really just a question of going through all the material and finding the strongest images that said something about the island.I could have made various versions of the book but I wanted to focus on the islanders and their environment, to make a kind of portrait. However, it is in no way an academic documentation. It is more a personal reflection on the people and place.
The people in the images seem to love the photos and I have shown many of them a digital version of the book. In fact, I recorded their comments and some of these appear in the book as captions.
DS: Did you work with an editor?
PG: No, but for the shows last year there was a bit of discussion with Elliott Halls Gallery in Amsterdam and Malcolm Dickson at Street Level Photoworks, but our choices were fairly much in line.
DS: Were there design considerations to be made about the book, and how you wanted it to look? What influenced those decisions?
PG: Of course the design is very important. I wanted there to be a certain informal flow and rhythm and avoid a too academic approach. At the same time I wanted to allow each image to breath, and that has been the crux of the process, to get the right balance between these two qualities. I've had some great feedback on that through the photo-book club and some friends here in Amsterdam.
DS: Are there further plans for the project and work?
PG: A couple of exhibitions are planned for next spring. One in a new art's centre in Oban as the opening show, and one in Amsterdam at the Elliott Halls Glallery.
If you'd like to learn more and support this project, do check out Paul's kickstarter here…
To learn more about Island Tides and support the project please visit https://www.kickstarter.com/projects/islandtides/island-tides
Best of luck with the kickstarter Paul, we're sure it'll be a huge success!