The British Journal of Photography recently announced their shortlist of photographers for their Portrait of Britain photo project, and we're delighted that photographers and work from Scotland made the cut. Jeremy Sutton-Hibbert's portrait from Langholm Common Riding (from his Unsullied and Untarnished book of the Scottish Common Ridings) was selected, as are two portraits be Edinburgh-based Euan Myles (and here), and also a portrait (first image below) by Ilisa Stack from her series 'Out tae Play'. We contacted Ilisa to find out more about her work and project…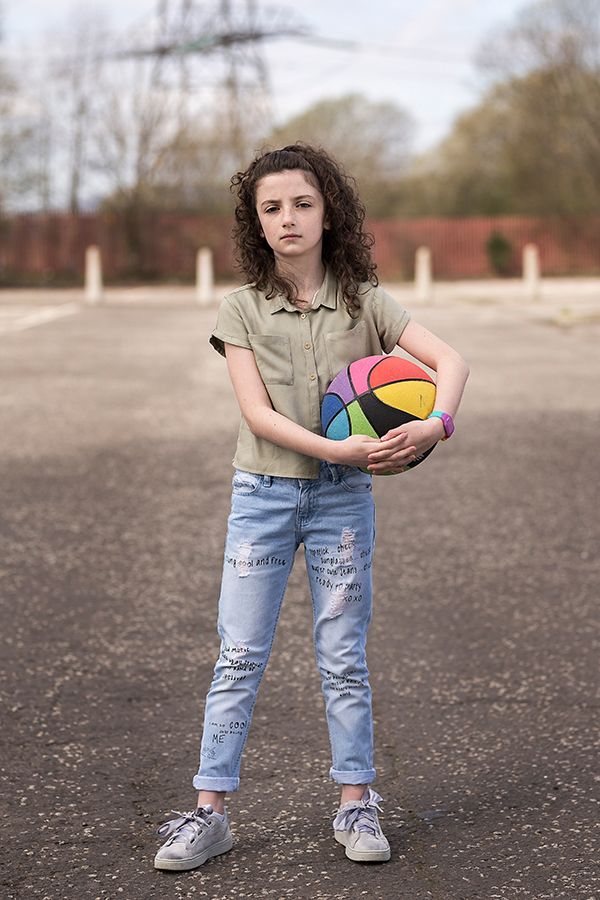 Oot Tae Play, by Ilisa Stack.
I have always had a love and desire for photography from the days as a little girl who used to watch her dad developing film in the darkroom to taking everyday snap shots of my own family through the years, however it was not until 2014 when I was accepted into the Hnd photography course at City of Glasgow College that my photography exploration really began. I completed my Hnd and went on to study for the BA (Hons) Degree in which I recently graduated from in June.
The four years studying at COCG really was a joy. The first fast paced years of the course aided my photographic skill set tremendously. With all the given briefs completed I could really start to see the documentary path that my photography was leading towards. I could not wait to start the degree years for that path to develop further with the gentle guidance and support of the hugely talented lecturers at City, as well as inspiring talks from photographers such as Kirsty MacKay and Magnum photographer Martin Parr. The college really has such an atmosphere surrounding it and proved to me to be a wonderful creative hub.
The origins for the Oot tae Play series actually started when I was visiting Hartlepool in 2016 researching Daniel Meadows inspiring book 'The Bus'. I was drawn to reading about Mary Clark one of his the subjects. Mary's character reminded me of many of the great Glasgow women I knew. I walked along the beach at Hartlepool and took a few shots; however the area was very quiet except for my boys playing with an old rope they had found. I also came across a concrete play area at the sea-front and as I looked through my viewfinder, an eerie feeling came over me. Later that night everything made sense. My children walked in front of me into the entertainment area of the holiday park we had been staying, to the left of them was a brightly lit over the top stall set with toys galore and directly in front of them was a dance floor and stage full with children laughing and playing. At that very moment I realised it was children that had been vacant from the beaches and play areas. That was the point 'Oot tae Play' was created.
I wanted to create work that involved children and their environment, i realised that I could work on a project in my own city which was a revelation for me as a lot of my work consisted of projects that incurred many miles.
I advertised the project on social media platforms with a poster that I had created to inform parents and carers who may be interested in their children taking part in the series to show the requirements of the project. The online presence was extremely successful and I had instant numerous responses.
At the start of the project I knew some of the children or I knew their parents, as the series has progressed that has changed and it is wonderful that people now are approaching me and wanting their children to be a part of the 'Oot tae Play' kids.
I choose to approach photographing the series in this way as I felt it is a modern way of communication. For me it is a very honest approach. I inform and explain to the parents before the shoot day that the proper releases will need to be signed.
The amazing children who have taken part so far all receive a high resolution image from the shoot, and a certificate to say that they have taken part in the 'Oot tae Play' series. It is much more than that though, they are now a community of children. One of the children Cari has now moved on to secondary school since I initially photographed her, her mum has informed me that she is planning on becoming a photographer. Michaela another child from the series' mum informed me that she had went into school and enjoyed telling everyone about her shoot and showed the image to her class. Fifteen year old Declan's mum was surprised that he wanted to take part in the project but because the shoot included what he does when he's is outside, he was more than happy to take part and show his ball and team strip.
The pictures tell a story of capturing a pictorial documentation of children today, how they play, what they play with and the outside environment in which they play. I would hope the images convey a positive representation of Glasgow children. (There also exists a short film of the children and their toys, from 'Oot tae Play')
https://vimeo.com/284125386
Working on the series has outlined a huge shift in social change in regards to the photographic documentation of children today. These contemporary portraits may still be too current to show the lack of images being taken of children out with a studio environment or family online albums.
It is a tremendous privilege for me to photograph the 'Oot tae Play' children and the aim at the moment is to continue to build upon the body of work. It would be very interesting to see and photograph the children again in the future and is something for me to consider.
I receive inspiration from various sources and it is extremely difficult to narrow that down but in terms of photographers work though I have to mention Thomas Annan, Bert Hardy, Oscar Marzaroli, Edith Tudor-Heart, Tish Murtha to Joel Sternfeld, Jim Mortram, Daniel Meadows, Kirsty MacKay and painter Joan Eardly, to name but a few. Whilst being a student you learn a lot of skills and one of those skills is confidence. It for me was really daunting to put work out in the world for others to see other than that of my lecturers. Credit for me entering the BJP really goes to Aileen Campbell my then lecturer. I was given so much encouragement to enter the competition. I am absolutely delighted that my image has been shortlisted for the BJP and that I will have an image printed in the Portrait of Britain book. I cried many a happy tear when I found out. I am in awe of the images that have been shortlisted and it is just lovely to be included in that part of the process. It has been wonderful sharing the news with Michaela and finding how excited she is that her image will be printed in the book. We look forward to the outcome of the shortlist, yes it would be a dream to make the final 100, however I really don't think Glasgow has enough tissue paper for the tears of joy I would shed if that was the outcome.
At this moment in time I am still working on 'Oot tae Play'. I am however researching background information for two new projects.
I have also been extremely fortunate to have been contacted in June of this year to take part in an exhibition at the aff Galerie in Berlin this October as part of the Monat der Fotografie OFF- Berlin by Malcolm Dickson, Gallery Director at Street Level Photoworks. I'll be giving a short talk on the work in Berlin on Sunday 14th, which is the opening weekend of the Monat der Fotografie OFF Berlin, which the exhibition is a part of. I am so pleased to be presenting some of the 'Oot tae Play' series.
I am delighted that recently I have had an image shortlisted for the Scottish Portrait Awards. This again was wonderful news and as one of the 30 to have been shortlisted the image will be exhibited at Edinburgh Arts Club, Saturday 3 November to Saturday 1 December 2018 and then again at the Glasgow Art Club on Monday 21 January to Saturday 9 February 2019.