This week I attended the opening of Paul Walton's Hum, which runs until 9th February in an exhibition space on the 5th floor of Glasgow University's St. Andrew's building. I have been an admirer of Paul's work for a number of years, and was impressed to see this collection of over 70 hand printed silver gelatin prints, brought together as Hum: Dispatch from the Lower Anthropocene. Walton, an ecologist and environmental campaigner by profession, uses photography to break down distinctions between science and art and explore a personal understanding of the human place in nature, of the history of life, and of environmental processes. The exhibition is reviewed here by Frank McElhinney, another contemporary Scottish artist whose work we have long admired, and has himself been interviewed for this blog (link below).
Hum: Dispatch from the Lower Anthropocene – an exhibition of photographs by Paul Walton
5:29am July 16th 1945, the precise moment of the first detonation of a nuclear weapon and, Paul Walton proposes, the commencement of the Anthropocene. It is this release of radionuclides imprinting directly upon geology that marks the crossing of the line into a new epoch when human impact on the environment becomes the defining characteristic of the period we currently live in.
In his exhibition of more than seventy hand made silver gelatin prints, Walton shares with the viewer his silent, slow burning rage. Cobwebbed daddy long legs and snail feeding trails, coexist alongside distressed plastics and metals. All show traces of decay and whether organic or manmade all are imperceptibly dusted with radioactive isotopes, touched by the cold winds blowing in from Siberia. All are strikingly presented in threes – triptychs, little trinities, the Trinity test, Jornada del Muerto desert, New Mexico 5:29am July 16th 1945.
In justified rage there is also a glimmer of hope. The hope that others will see what the photographer sees if his vision is communicated well enough. Photographs are anchored in stillness. Paul Walton's photographs ask us to stop and think about time and humanity, to think about our place as aberrant species on this planet. If we see what he sees, that the Anthropocene is upon us, then surely we will change in ways that might yet stop the rot? That is one proposition or heartfelt plea of the work. And how much work, how much labour is vested in these photographs? This exhibition is Walton's first but he has spent five years worth of weekends in the darkroom of Street Level Photoworks in Glasgow, slowly accumulating and developing the skills and the imagery to construct this rich multilayered narrative. This exhibition shows us his vision of the contemporary, precariously poised between the blind march toward End time and a conscious step away from the precipice.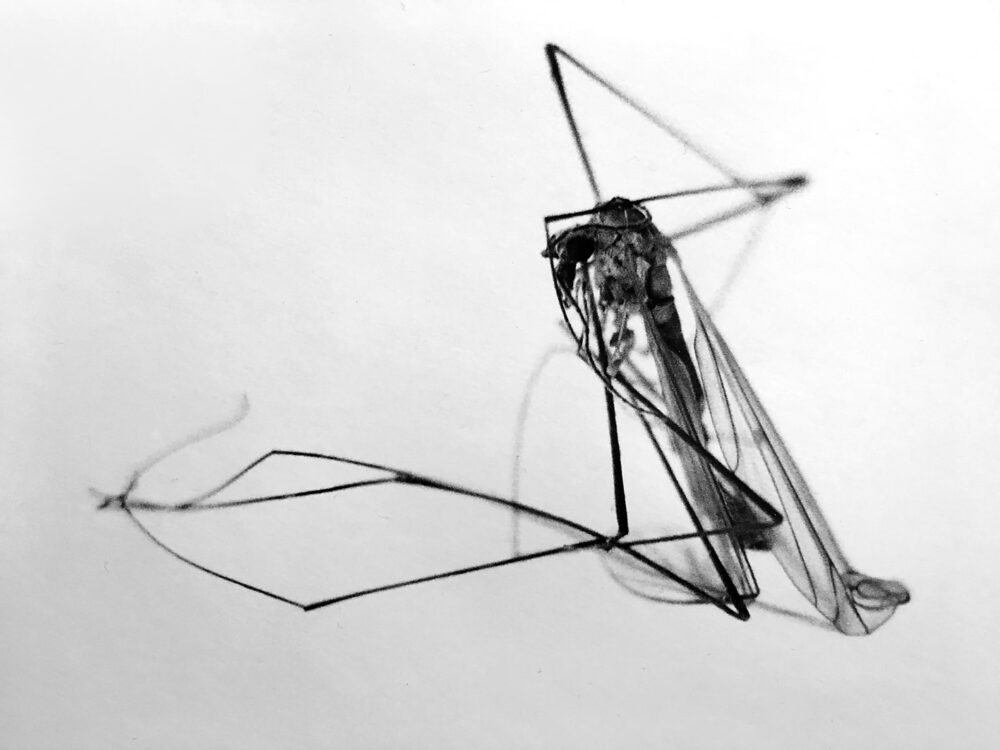 Re-photographed archival images are presented alongside new and unusual still lives that were made throughout Scotland. A nuclear blast in the Nevada desert, Paleolithic cave drawn men from Spain, and microscopic slides of marine plankton originally made by a woman who was run over by a coal truck on her bicycle after ten weeks of marriage to the photographers father. These vie for attention with sea torn aluminium from Seil, beached plastic on Tiree, bullet riddled steel plate from Perthshire and spilt milk in the Gorbals. Still life triptychs are bounded on a very long wall by grids of snagged carrier bags, little archaeologies of detritus flying in the wind like torn flags of forgotten nations. The perceived physical feat of production in such volume also plays its role in expressing the maker's obsession with his subject. The viewer responds to the material reality encountered as well as to the visual aesthetic of the closely observed inter-connected still lives.
Hum: a low steady continuous sound. Jornada del Muerto: journey of the dead man. In a talk given at the exhibition opening Walton spoke about the influence of his late geologist father on his world-view, his obsessions and indirectly his photography. He spoke of his own professional interest in declining sea bird species and tracing root causes back through the food chain to the impact of global warming on marine plankton. Climate change and the power games humans play with nature hum, ever present, weaving their way into the fabric of our lives through our environment and eventually into our bodies themselves. Walton's quiet photographs signal a mortal struggle. He remembers as a boy more than forty years ago, standing on a hill with his father, being inspired by stories of the wide-open plains of Siberia. This was a space of freedom and 'fresh air'. Air that blows across Europe from the east, air that carries low level radiation: "he and I breathed in the cooling soviet isotopes, gyred in from Siberian test sites, down into our bellies, and there they stay, as geology hums, shrugs like the eider, and a new epoch begins."
– Frank McElhinney
Hum: Dispatch from the Lower Anthropocene is on display at St Andrew's building (5th floor), Eldon St, University of Glasgow, until February 9th. Mon – Thur 7.30 – 21.00, Fri 7.30 – 17.30.