Scottish Sweet Sixteen is a portfolio of images made by Sophie Gerrard in response to the fact that for the first time in a UK political vote 16-year-olds were eligible to vote in an election. Those born on or before 18th September 2014 were eligible to participate in the that year's Scottish independence referendum.
Shot in homes, bedrooms, public places and parks, Scottish Sweet Sixteen introduces us to a number of young people of voting age in Scotland and the spaces they spend time in. These adolescents share their views on being 16 in Scotland today and what, if anything, having this vote means to them. Some describe the referendum as motivating them to become interested in politics for the first time in their lives. Others are unsure and nervous of how to vote, uncertain of what to think or of whether they will vote at all.
Stacey, (above) aged 16, Kirknewton
"Stacey, 16. "I've had a chat about independence and the referendum and I understand what it is, it's about Scotland being its own country. But it's complicated. I do want to vote, I do want to learn about it, because it could make Scotland a different place. I don't go to school anymore, I left. I've been in 3 different foster homes, this one for the longest. At 16 I feel I'm just starting to come into the world, and be old enough, I'm a young adult now."
Millie, 16, Portobello: "I think it is really important for sixteen year olds to have the opportunity to vote in the referendum. It affects our future – in many ways more than our parents generation. However, usually when you vote in an election, the results last for 4 years and there is potential for change. It's a daunting idea that my first vote could have permanent consequences."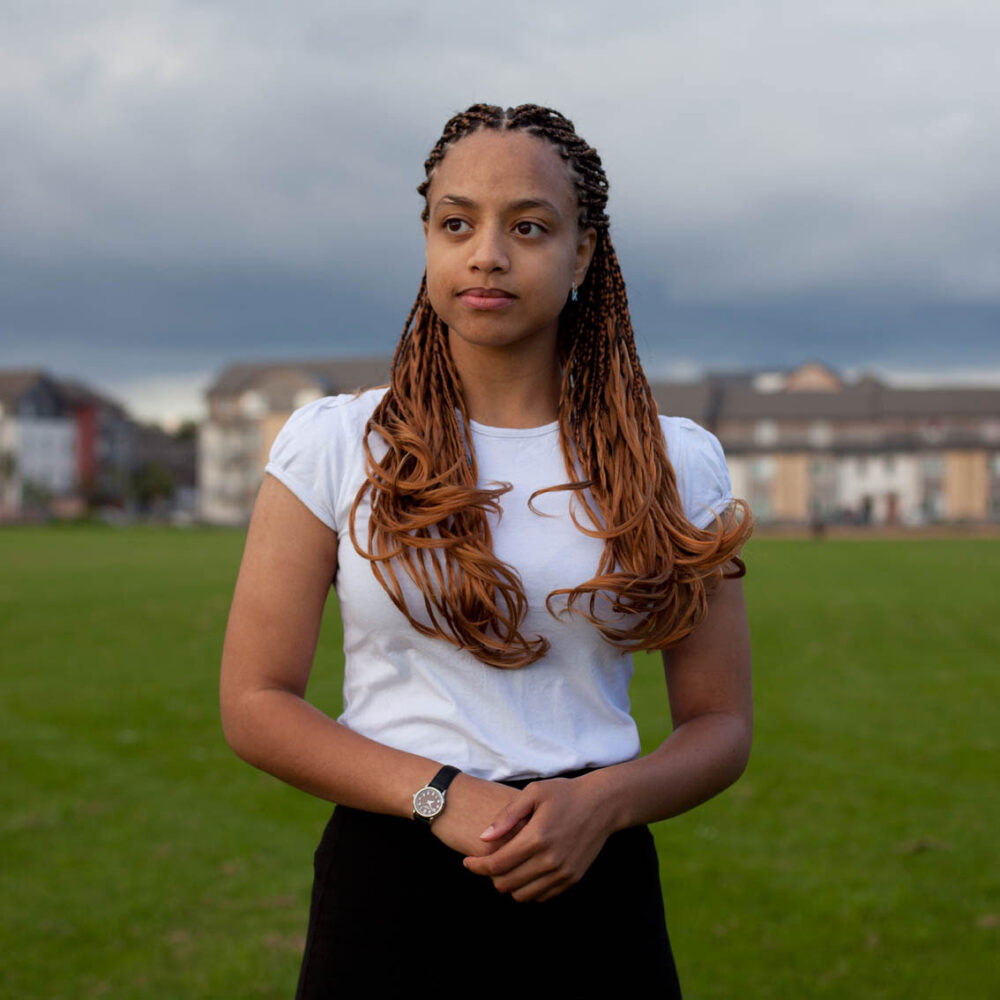 Charlotte, 16, Firrhill: ""I think it's a privilege to have this vote now that I'm 16. Especially for something so close to me, it's really important that I have my say. I had no idea about politics before the independence referendum, I wasn't interested, then my dad became more involved, my friends started to have conversations about it. I decided to inform myself and I found it was something I felt really strongly about. I'm passionate about independence, I'm voting yes and I want people to know that. I feel it's vital for our country, it's an opportunity to really make a change, to take a stance. It's so important for my life, for the people around me and for my future and that's why it's important to me."
Eddie, 16, Musselburgh. "The referendum is a really important thing for me, it got me into politics, I've joined a political party now, it's had a real effect on my life. When you're 16 you can work, you can get married, you pay taxes, you contribute to society. I think a person who pays their taxes should be allowed to vote, they're doing their bit for the country. I would like to get a job as a politician. People say politicians are out of touch with society, I feel I'm more in touch, I'd like to be a voice for the people."
Maarja, 16. "I'll be applying to university before I'm 17, I'll be going to university before I'm 18. i am looking forward to voting. I haven't made a decision on how I want to vote yet. My dad is quite strongly on one side but the rest of my family are on the other side. I'm glad they extended the vote to 16 year olds but it does worry me too. I think people need to research it properly before they go ahead. Not just listening to their parents. I think whatever happens it will be such a big effect on the affect of Scotland for the rest of our lives so we should vote."
Rachel, Carys & Lindsay, aged 15 & 16, Bonnyrigg. "At this age we're inbetween being adults and being kids. We're not always treated the age we actually are. We're given freedom but not too many responsibilities, that's the best thing about being 16. We talk about voting, and what to decide, I think 16 yr olds are just as able to make an informed decision on the referendum as quite a lot of adults, I think the teenagers who vote will be the ones who have done their research and know what they want, otherwise I don't think they'll bother to vote at all.
Neil, 16, Linlithgow: "I'm really excited about voting, there's nothing that's been so important for our generation. My generation are the ones that will live with independence, it it happens, for the longest time. We're the ones that will deal with whatever's decided. I think that's a really exciting thing. Some young people might be influenced by their parents but I'd say I've definitely got different views from mine. I've not been influenced by them. I want to show my family that I'm capable of making a decision. I hear the argument that at 16 we're too immature and we wont be able to make the right decisions but I think you can find that at any age. There are so many younger people that I'd trust with political decisions than older people."
Sean, 16, Saughton. "What's the referendum? Oh, ok, I'm going to vote for us not to be independent. I don't know why, that's just what I think.
William, aged 16, Saughton. "I started thinking about it properly in about April this year. I'll vote because it's my opportunity to show my view of what I want the Scottish future to be. I'll be voting no to independence.
I'm voting to keep the union because I think the country is fine being run the way it is now and I don't feel a need for change."
I shot Scottish Sweet Sixteen in the summer of 2014 and my aim was to meet as many young people of first time voting age as I could and collect and record their opinions on the referendum. I didn't ask them which way they planned on voting, my interest lay more in how they felt about having the vote, not necessarily in what they planned on doing with it.
I used social media extensively to find my subjects for this Scottish Sweet Sixteen – you can follow me here on Twitter @sophiegerrard_
This is a collaborative project, and my thanks go to all those who agreed to take part and allowed me to come to their homes and interview and photograph them. A longer set of interviews exists of this project which is on show at Streetlevel Photoworks as part of Document Scotland's exhibition "Common Ground" from 26th August – 19th October 2014.
Scottish Sweet Sixteen also appears in the Document Scotland limited edition book "Common Ground" which you can purchase here.
See more of Sophie Gerrard's work at her website www.sophiegerrard.com