Colonsay is a place I know well, so I was delighted when asked to take part in Show Us Colonsay…
I first went to Colonsay in 1993. At that time the ferry only went three times a week and the debate was whether to do Friday to Sunday (2 nights) or Sunday to Wednesday (3 nights). Colonsay is 8 miles long and, at its widest, only 3 miles wide.
"What will we do for three days there?", I thought. But as a natural risk taker I decided to plump for latter: three whole days! 30 years later, I've still not had enough. (See Craig Easton's earlier Colonsay photographs)
That very first visit led to a picture that I still love… the first picture I ever made on the island as I walked up to the hotel from the Sunday ferry, two sheep making their way along the road.
Thereafter I visited many times for family holidays and always took a camera. In the mid-nineties I made a series of portraits and b&w landscapes, so the chance to revisit as part of the Show Us Colonsay event supported by Creative Scotland and Street Level Photoworks, was not to be missed and I had two ideas on my mind.
First up was the chance to revisit some of those portraits I made back in the day. Sometimes it was the same person: Archie McConnell hasn't aged a bit…
Other times it was the new incumbent of an essential island service: Keith Rutherford was the postie back in the 90s and would drive his Land Rover postbus across The Strand to Oransay. Today it's 'Robbie the Post' who delivers the mail, still driving across The Strand, but no longer in a Land Rover and sadly no longer able to offer the postbus service (and I'm not entirely convinced that the Peugeot will survive the salt water in quite the same way as the old Landy)
Gavin is the new May McKinnon (I'll be in trouble for saying that!) running The Pantry and still baking bread daily to May's recipe. I hasten to add that Keith and May are still going strong, just no longer delivering and baking on a daily basis (though Keith is still behind the counter in the Post Office, as seen in Jeremy Sutton-Hibbert's pictures) and both were on good form at our end-of-the-week community event.
Alongside these portraits, I wanted to make some new work… a project I've been thinking about for many years and was delighted to be able to make a start on what will be the first of a number of visits throughout the seasons. I met Andrew Abrahams on my very first visit when I'd buy his oysters and honey in pre-arranged meetings at the 'road end'… I'd hand him cash and he'd hand me his treasured loot in a used plastic bag – the kind of encounter that would look very suspicious in a city centre backstreet. Again, nothing's changed and I treated the Doc Scot gang to some plastic bagged oysters from the back of Andrew's tractor trailer… food of the gods!
In the late 90s, I did a lot of books for the BBC and made a short reportage feature about Andrew's oysters for Rick Stein's Seafood Lover's Guide. I'd always wanted to go back to work on a project about his bees and honey.
Throughout the week then, I spent a couple of days with Andrew as he attended his hives, and an afternoon at the house talking to him and recording the story of the Colonsay Black Bees. It's a fascinating and important tale that I'm just scratching the surface of… exploring how I might make the work, but starting out shooting b&w film in both 10×8 and 120 and making audio recordings with Andrew… can't say anymore at this stage, but here's just a sneak peek of the work that's just started… very rough test prints as I work through ideas (I don't normally share work-in-progress and I'm feeling a bit nervous about this so go easy on me, but hopefully a book or exhibition will come out of this in maybe a year or two's time. Watch this space…)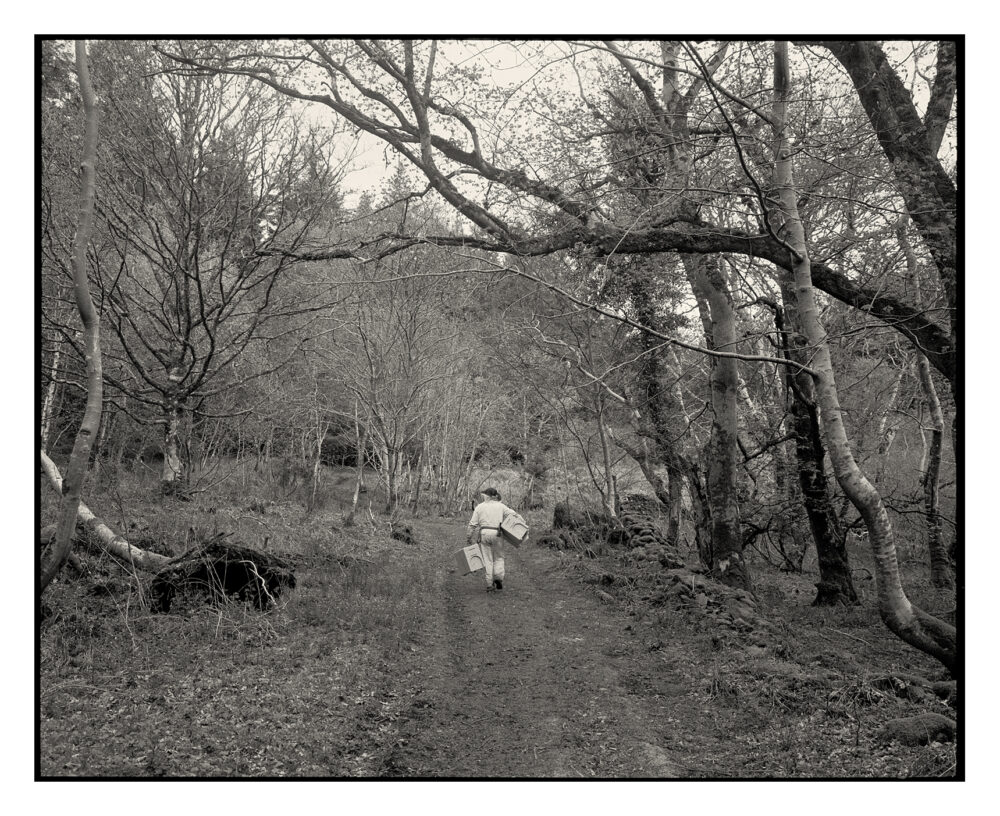 Lastly I want to say a big thank you to my good friends Colin, Sophie and Jeremy for inviting me as a guest of Document Scotland for a week of photography, chat and community activity, and to take part in Show Us Colonsay, on the beautiful Hebridean island.