Sophie was really pleased to be invited to take part in Green Week 2014 at London College of Communication this month.
Sophie took part in Survival a symposium debating sustainability and its communication and looking at the role environmental photography can play in media representation. Sophie showed a few projects, E-Wasteland and The Dunes and a really great debate and discussion was had. The event brought together a range of activists and communicators to discuss the role of the media in campaigning for social change and environmental awareness.
Key themes were the role of the media in environmental discourse as neutral observers or committed advocates; new ways of targeting audiences in the digital age; case studies of projects and campaigns; keynotes from leading figures in the field.
There were some great speakers and some great work – we discussed the role of photography in campaigning for change, in raising awareness, in giving a voice to the under represented. Also in terms of the media and photographic commissioning, we discussed why Document Scotland was formed and the motivations behind working collectively. Essentially looking at the importance of documenting the issues and stories of our time so that they might contribute to the history of tomorrow.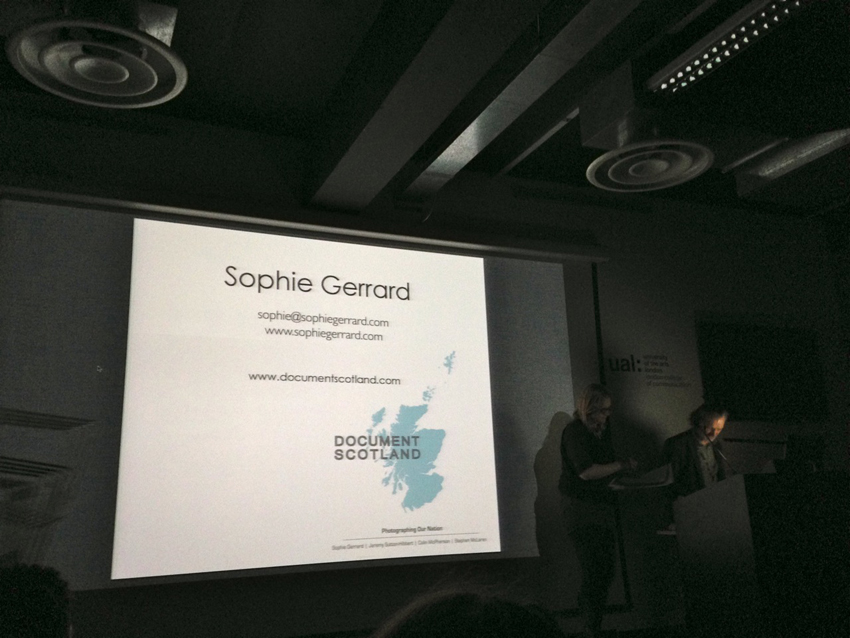 After the debate it was the private view of Survive, the group exhibition featuring my work E-Wasteland a project documenting the illegal and toxic trade in electronic waste in India.
This exhibition brings together the work of 7 photographers who are engaged with environmental issues and campaigning for change. The work on display shows how toxic waste-disposal, harmful energy sources and rising sea levels play leading roles in damaging both the environment and our communities.
Thought provoking, sad and evocative, this exhibition shows not only major issues for the environment, but the devastating effect it is having on local communities around the world.
Thomas Ball – Athabasca
Antrim Caskey – Dragline
Yvonne De Rosa – Waste Side Story
Sophie Gerrard – E-Wasteland
Ciril Jazbec – Kiribati is Gone
James Morgan – Last of the Sea Nomads
Svala Ragnars – Orka
E-Wasteland was shot in backyard recycling yards and workshops in Delhi, Mumbai, Chennai and Bangalore in 2006, and was completed as part of my final MA project. The work was awarded a Jerwood Photography Award, published widely in UK and international press and used by Greenpeace International in their E-Waste & Toxic Tech campaign. E-Wasteland has also gone on to be internationally exhibited and print sales of the work are available through The Photographers' Gallery.
For further information about all these projects take a look at the Green Week website