Edinburgh during the festival is a lively place, full of energy, excitement and a melting pot of ideas, inspiration and passion. What better reason to invite friends and colleagues to an evening of Scottish photography, multimedia and conversation at Stills Gallery, Scotland's centre for photography in the heart of the city. All of us at Document Scotland would like to extend a huge thank you to all of you who came along and helped make the night such a success.
We were also delighted and honoured to be joined by Fiona Hyslop, the Cabinet Secretary for Culture and External Affairs. Thank you for coming Fiona, and your kind words about the work.
Stephen McLaren welcomed us all, and the evening kicked off with Jeremy's new, and as yet unseen multimedia work on the Scottish Borders Common Ridings. A fascinating glimpse into a world of tradition, ritual and history (and a follow on from his work on the subject started in 2000 which you can read about here.)
Next up was Tom Kidd's stunning black and white work from 1970's Shetland, more of which can be seen here. Tom was there to answer a few questions for us and tell us a little about his experiences of photographing there. It was great you could join us, thanks Tom.
We then went to our first Glasgow story of the evening, Chris Leslie's evocative Red Road Underground which tells the story of the unique Brig bar, a hidden underground bingo hall underneath the now demolished Red Road flats in Glasgow. Chris' ability to transport us to that place through the voices of those who frequented there led to an interesting conversation about legacy, regeneration and memory. We're really glad you could join us Chris and tell us more about your work.
Gemma Oven's "Skeklers" documents an ancient the lost tradition of Skekling from the Shetland isles through photography, film and reconstruction. We featured this work by Gemma on the blog back in March this year after finding learning about her project that she undertook as a student at the City of Glasgow College. We were very pleased that Gemma was able to join us last night and answer a few questions about the ancient tradition and her experience of recreating it. Take a read of the blog piece to see more of Gemma's pictures and watch the film.
Colin McPherson was up next with his new work, "Avenue" – a work in progress which is in the very early stages and looks at the street in which he grew up in. Colin talked us through his idea for the work, his motivation and where he planned to take the project. As it's so new, we don't have a link for this project, but please do watch this space, Colin will be updating us all as it progresses and as the work continues – we can't wait to see more Colin.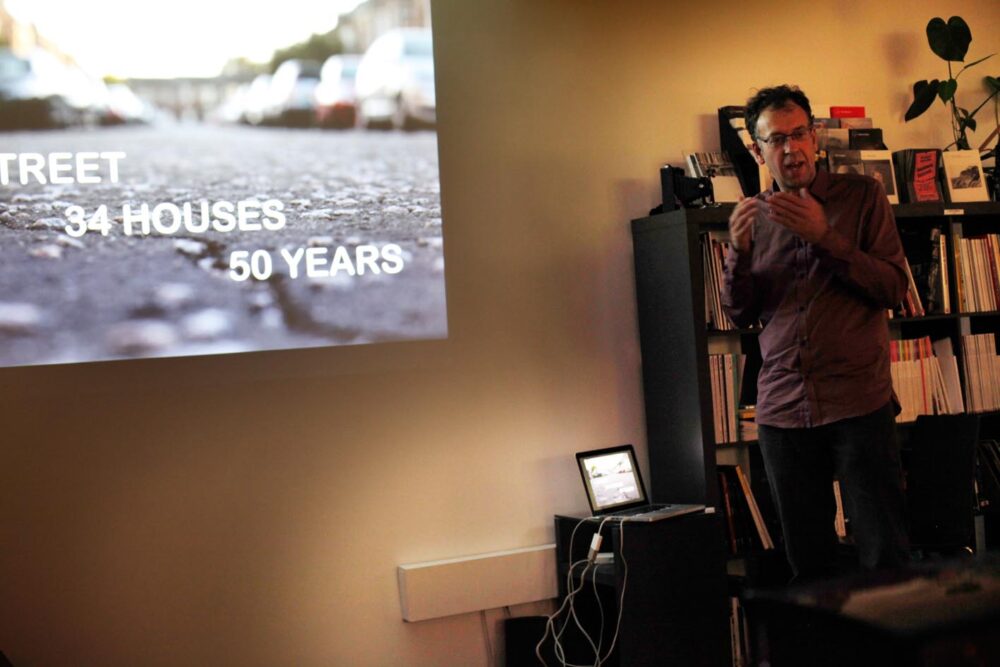 The second Glasgow project of the evening was work by Hugh Hood. His photography website is here. We watched a slideshow of 1974 Glasgow images set to music. Documenting vanishing Glasgow neighbourhoods. It's a poignant project and one we've featured on the Document Scotland blog – take a read here.
Last up – and for desert as Stephen put it, was Sophie's piece on Tunnocks and the Scottish institution that is Mr Boyd Tunnock – some call him a modern day Willy Wonka, others call him Mr Tea Cake. Having always wanted to get inside that wonderful factory and see how it worked, Sophie was given the opportunity earlier this year and the resulting film and photographs were published, you can see them here.
What remains to be said is a huge big thank you from all of us. Thank you to Evan and his team at Stills for hosting us and making us feel so welcome, thank you to Neil from Beyond Words for being there with an ever fantastic collection of books and publications for sale, thank you to our wonderful guest contributing photographers showing work alongside us namely Chris Leslie, Gemma Ovens, Tom Kidd and Hugh Hood. Thank you to Fiona Hyslop, for joining us and thank you most of all to our wonderful audience for turning up in such numbers and making this night such a success.
Here's to you all, and to the next Salon event!